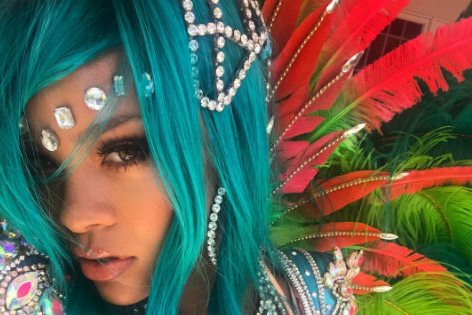 featured
Rihanna shows the world how to do #CROPOVER
By
|
Bad Gyal Riri is iconic in both the music and the fashion world. Her style is brash and unique in a way that gives an unavoidable presence when she walks into a room. Whether she's glamming it up with an arty, 3D-structured 'Comme des Garcons' dress or playing it casual in an Adidas ensemble, she is sure to always turn heads.
On Monday (August the 7th) it was no different as Riri wore wild, turquoise hair and a dripped in crystals two-piece for the Crop Over Festival, 2017.
The 29-year-old artist Rihanna made an appearance in her home country Barbados, for one of the biggest Caribbean carnivals of the year. Riri last attended in 2015 and is well known for showing up bedazzled in jewels and wearing elaborate costumes. She has become a staple to the two-month long festival that celebrates the end of a triumphant sugarcane harvest and begun in 1687. The festival attracts tourists worldwide and is described as a massive party full of laughter and good vibes.
On the Kadooment day, Riri stole the limelight with her over the top and extravagant peacock, coloured outfit wearing a gem-encrusted bikini crafted by the local designer Lauren Austin.
This was matched with crystal jewellery and face gems. Following she wore an array of eye-catching ruby, green and blue-feathered wings with a large, multi-coloured, plume headdress which complimented her vibrant hair.
Rihanna enjoyed the party-hard atmosphere, taking snaps of her dancing and singing as she rode through the parade on a float sponsored by the band 'Aura Experience'. The vacation was earned since her most recent work, acting in the newly released movie, 'Valerian and the city of a Thousand Planets'.
Lewis Hamilton also made his usual appearance at the festival dressed in red and white clothing with a heavy, blinged-out, gold chain draped around his neck. He was seen chilling to the music and soaking in the day with smiles all around.
Since the event, fans on social media have flooded the singer's Instagram uploads with comments of admiration saying she's, "blessing the internet" and "You've come a long way. Representing Caribbean girls to the Fullest. Respect!"
Alongside the praise, Riri's ex-partner Chris Brown caused uproar among her fans when he commented the 'side eye emoji' on one of her festival photos. Many of Rihanna's devoted followers believe the comment was unneeded and unwanted, questioning Chris' 'audacity' to make the bold move. Words such as "keep his negative energy away", were posted by fans as they recalled Chris' 2009 assault on the singer.
However, with Rihanna's Fenty X Puma Collection, her blooming acting career and non-stop hits filling all the radio stations, she continues to slay the game.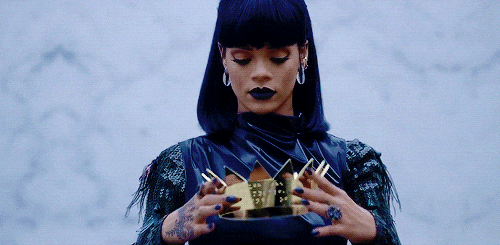 Words by Aaliyah Harris