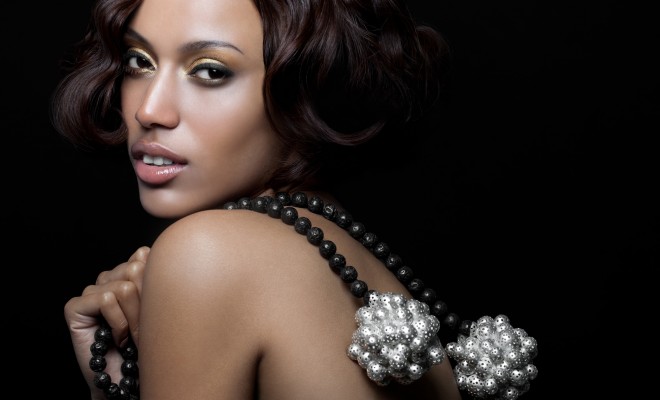 Beauty
Gold Rush
By
|
If there is a beauty shade that represents summer it is unquestionable the colour gold, in all its glorious shimmering and sparkling forms. Gold we salute you.
Make up
There is no other colour in the make up world that looks better on black skin then gold. From eyeshadow to lipstick get ready to glimmer!
Limited Edition Estee Lauder Pure Color Illuminating Powder Gelee in Heat Wave £30 – This product illuminate complexion and leaves skin with a sexy and polished glow. Also it easy to blend and build for a finish that goes from subtle to soft.
Illamasqua Liquid Metal in Enrapture £17.50– This multi wear metallic cream looks amazing worn on eyes for an easy flash of colour or on the face and body for a holiday sun-kissed gleam.
Fashion Fair Limited edition Sam Fine Lip Gloss in Canary Diamond £16– The gold lipgloss looks beautiful on lips and is so easy to wear – the perfect accompaniment to a hot, tropical setting.
Nails
Want a flush of colour that looks expensive yet is equally versatile to wear? Well 24caret gold nails are likely to be right up your street.
Nail Rock Nail wraps- Glister Gold £7.50 – Nail art is great fun for summer but can be time consuming and fiddly so cut out the middle-man with these great nail wraps in various gold designs.
Morgan Taylor Nail Lacquer in Give me Gold and Glitter Gold £10.50 – Classic metallic nails are a good summer alternative to the traditional French as it works with all outfits and it's so much more fun!
Sensationail Colour Magnetic Gel Polish (Starter Kit) £60 – Holiday beauty is all about maximum impact with minimum effort so try using a gel polish in a fabulous golden hue that will give you up to two week of dazzling damage-proof wear.
Face and Body
Gold will not only give your face and body a dazzling glow but actually has many skincare benefits too.
Jamela 24K Gold Collegen Mask £37.50 – Proven to increase the skins moisturisation level by up to 92% – the key ingredients of 24k nano-gold, plant collagen will hydrate and plump ageing skin in just 30 minutes.
Transformulas Hydration Gold £69.95 – Give your skin a subtle golden glow this summer whilst restoring lost hydration. This luxurious cream combines 23 Carat Gold Powder and Hyaluronic Acid to create a veil of health and radiance.
Nourish Golden Glow Toning Souffle £24.95 – Infused with golden resins of Frankincense and Myrrh, which, rejuvenate the skin and is also know for its anti-ageing properties. The golden resin also creates a gorgeous glow and shimmer.
Fake Bake Gold Fake Tan £30.75 – The fake tans gods have tapped into black women's desire to have that year long glow. So whether or not you get to travel abroad this product will ensure your skin is always bathed in gold!