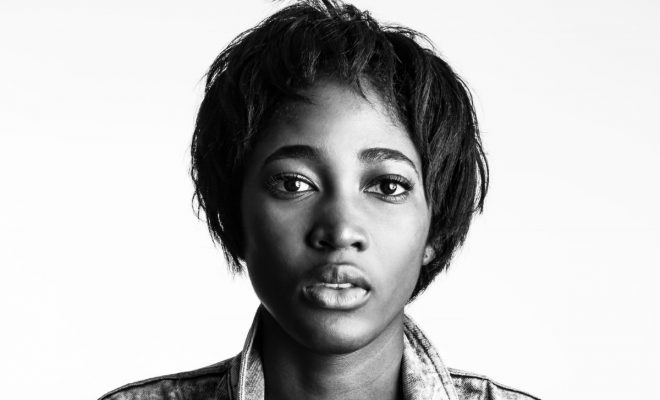 Adelayo Adedayo (Photo by Phil Sharp)
featured
Meet your new Celeb BFF – Adelayo Adedayo
By
|
From playing mouthy sixth-form student Viva in BBC Three's Some Girls, to being a time-travelling jazz musician in Timewasters, to now stepping into the role of ingenue in one of seminal Russian playwright Anton Chekhov's most famous plays, Adelayo Adedayo has had quite the varied career.
Confident and charming, she is surely only going upwards from here ‒ and she spoke to Pride's Nicole Vassell about her journey, and her hopes for the future.
How did you get started in the acting world?
Adelayo Adedayo: I went to Identity Drama School when I was about 18, and I took classes in the evening or on Saturday. Soon I joined their agency, where they'd help to set me up with meetings and castings, and it all rolled on from there.
What has been your favourite role so far?
AA: I did a theatre production called Cuttin' It for around three months in 2016, playing a character called Luna ‒ and I absolutely loved her. She was so vibrant and unapologetic about herself and everything to do with who she was. She was only about 15, but her spirit was beautiful and everything that was written for her just came off the page so effortlessly.
Has it been a steady road when it comes to consistently getting jobs?
AA: It's been great! It hasn't always felt great though; I'm always giving myself a hard time, but when my friends or my mum tells me to fix up, I step back and think about all the things I've done and I think: 'Okay, you're fine!'
What would be your ideal role?
AA: I don't have a specific role in mind, more of an ideal type of character ‒ one that's unforgettable, or one in whom I can see myself, or my mum, or my sister represented.
What attracted you to 'The Seagull'?
AA: In the play, I play 'Nina', a young girl who is completely unashamed of what she wants. She not only wants to be an actress, but she wants to be a famous actress at that. She doesn't apologise for that, and she really reminds me of young people of today ‒ really pro-active in getting what they want, going against the grain and not taking the traditional paths that their parents may have set out for them.
Which do you prefer: stage or screen?
AA: It's really hard to choose. I love screen work. The fact that it exists forever, and you can watch it over and over again ‒ plus, the stuff that cameras and editing can do can be magical. But saying that, you cannot come close to that instant buzz of being with an audience and the knowledge that everyone's having a shared experience in that moment. That's a fricking awesome feeling. I can't pick!
Do you think things are getting better when it comes to diversity on stage and screen?
AA: There's way more conversation about it nowadays, especially after #OscarsSoWhite kicked off. People are talking about diverse casting and creative teams more, and it's good to keep that at the forefront of people's minds. I think there's still a long way to go though, but we just need to make sure the conversation keeps going, and that we don't slow down just because we're seeing some increase in diversity.
Who would be your dream actors to work with in the future?
AA: Viola Davis is just the best thing since sliced bread, so there's that ‒ also, Denzel Washington would be amazing to be in a project with. I love Meryl Streep too! Working with those three would be the dream.
What advice would you give to a young person looking to break into acting?
AA: Make sure that you really, really want to act, and figure out the reasons why, because it's not easy. If you're adamant you want this, try to get as many opportunities as you can ‒ amateur productions, student films, any way you can get people to watch your work. You'll start to build up a body of work you can then bring to agents so they know you're serious. You have to grab these opportunities with your own hands, and make it happen!
Adelayo stars in The Seagull at Lyric Hammersmith from Tuesday 3rd October ‒ Saturday 4th November. Tickets from £15, available at lyric.co.uk/shows/the-seagull
Now read: Pride meets the Timewasters!