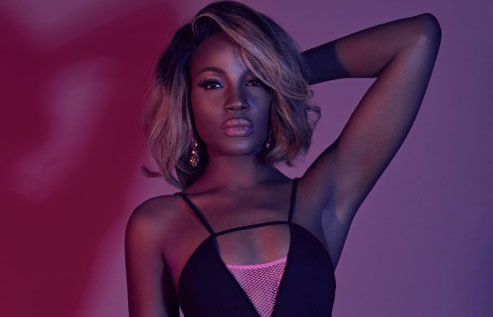 Entertainment
Full interview with…. Seyi Shay
By
|
Afrobeats artist Seyi Shay is featured in Octobers print issue, however it was such a great chat we wanted to give you the full length interview right here.
Born and raised in Tottenham, Seyi Shay's love for Afro-beats stemmed from dancing to the genre in her mothers kitchen at just 8 years old. From a girl group to touring with Beyoncé, she has been striving in the industry for 10 years. Seyi Shay is finally getting the recognition she deserves as the Afro-beats scene has continued to grow in popularity. She talks to Pride's Rhia Harry about her new single 'Your Matter' and what she's got planned for the future.
What are you working on at the moment?
Just pushing the latest release of my new single for 'Your Matter' featuring Eugy. It's actually the first release under Island Records, I'm currently in London doing some promo for that, I'll be heading back to Africa to finish off the tour.
What was the inspiration and process behind your new single 'Your Matter'?
It was all quite a blessing actually, I have a friend that works in the industry who reached out to me on Instagram and said you should hook up with a British artist. Team Salute who are some of [Mr Eazi's] producers introduced me to Eugy and I flew into London and I got into the studio and heard the track half cooked already, I felt the vibe, I was really loving it so I decided to put my 2 pence worth in and it became my single. He brought a real UK vibe and sound to the record, he made it pop.
What was it like working with Eugy?
It was great. He's a British born Ghanaian guy, he's also an Internet sensation but he's still humble and very willing. He brought a real UK vibe and sound to the record, he made it very UK, he made it pop. I'm really excited about working people like Kojo Funds, so it should be a great rest of the year, just teaming up with other artists across Africa. People should look out for my Instagram for tour dates.
Are you nervous about the tour?
I'm not really nervous anymore. I just did a show in Uganda, sold out. My history is that I was in a girl band; we were managed by Matthew Knowles for 4 years. We were on her 'I am' tour in 2010. I've been prepared for this.
Why did you decide to leave the girl group to go solo.
Everybody wanted to do different things. I feel like everybody is just doing what they were destined to do.
What is the hardest thing about being an Afro beats artist?
Nowadays there's nothing hard, when I first moved to Nigeria, crossing over was hard because we didn't have the avenue, and we weren't exposed.
The only problem the rest of the world may have is probably the language barrier, but I feel like Afrobeats is much of a feel or a vibe and its getting easier by day.
Who are your favourite Afrobeats artists right now?
Wiz Kid, D'Banj, Davido, Omawumi [and more]
Have there been any setbacks on your music journey?
Financially being able to push money into my project so that I can distribute and promote myself. Sometimes it's hard because we rely heavily on shows and endorsements and Internet sales; that money has to go back into our brand or our project.
How did you overcome that?
Pretty much just shifting my brand to be a bit more connected to the fans who basically and strategic partnership is one thing my record label does very well.
What have you learned?
You need to stick to your guns. See the whole thing; see the whole experienced not as a job but as a responsibility. A responsibility to seek always joy and happiness.
What are you excited about for the forthcoming year?
I'm coming over to London with my full band at the end of October to do a showcase powered by Island Records; we will be doing that in one of the 02's.
I've been nominated 4 times for my single Yolo Yolo, which I released in January. At the moment it's doing really well. Get your readers to vote! I've also been nominated for one of the most recognised awards in Africa, which is the AFRMA awards.
There's more…
There are other things still in the pipeline; I'm involved in a couple of movies between this year and next year, one international movie and one African box office movie.
I know you took part in the #WhatIReallyReallyWantglobal campaign film, can you tell me about you being an activist.
Last year I was working with the UN, it was basically to cause awareness for women and the equal rights for young women and girls especially in Africa. It was great. We were featured in Rolling Stones, Vogue, ELLE magazine, CNN, BBC1, you name it. It was really good exposure for me.
Favourite song right now by any artist?
Probably be Yolo Yolo by Seyi Shay.
Great answer Seyi Shay! Check out her new single and music video for 'Your Matter' featuring Eugy right here: