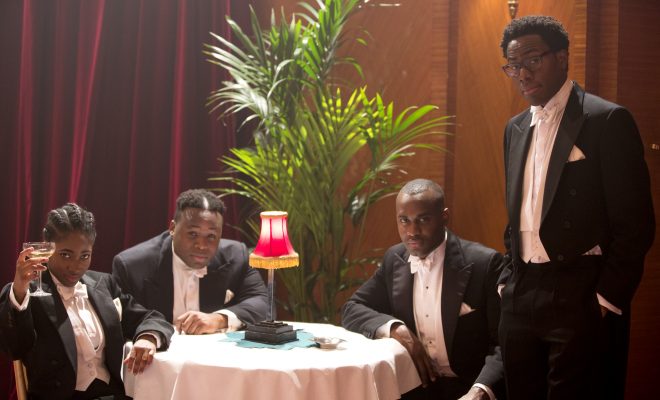 Entertainment
One To Watch: Timewasters
By
|
Who knew that a band of young, black musicians travelling back in time was just what the TV schedule was missing? Clearly, Daniel Lawrence Taylor did, so he created (and stars in) new ITV2 sitcom, Timewasters, which sees a struggling jazz quartet from modern-day South London being whisked to the 1920s by way of a smelly, faulty lift in their flat block.
Though a somewhat unlikely concept, the light and witty script and the easy rapport of the cast makes this comedy really work, and is sure to inject fresh energy into the Autumn TV schedules. We caught up with the cast ‒ Taylor (Nick), Kadiff Kirwan (Jason), Adelayo Adedayo (Lauren) and Samson Kayo (Horace) ‒ for some quick-fire questions on everything from the supernatural to the importance of chicken shops.
On the key reasons for creating Timewasters…
Daniel: I really wanted to make a sitcom with black leads. There were a lot of television actors who weren't getting jobs, so I wanted to make the opportunity happen myself. I did a job once with Javone Prince (PhoneShop, The Javone Prince Show) and we both took a step back and realised how rare it was for us to be acting with one another ‒ more than one black person in a scene! And what's more, we weren't talking about race: he was playing a headteacher, I was playing a producer. So I just wanted to write something fun, and with a wide appeal, but with a black cast ‒ and why not something fun like a time-travelling jazz band? It's the ultimate 'fish out of water' scenario, in every sense.
On wasting time in real life…
Kadiff: I waste time by watching Love Island, and popping to the gym ‒ I'll be on my phone for three quarters of my time, on Instagram, just posting so that people at least know I'm there.
Adelayo: Netflix. The Crown, Suits, Designated Survivor, I watch everything and it doesn't even have to be good… oh my God, and Greenleaf. It is the best trash TV you will ever watch!
On young black people being silly on TV
Adelayo: I think it's taken time for young, black people to have the opportunity to be seen in this way because the industry might see young black-led TV shows as a risk. It's not a risk: we're just people, so it shouldn't be risky putting fun people on screen, no matter what colour they are. And TV execs just aren't creating with us in mind; Daniel made a conscious choice to write about four young black people, and if he hadn't, we wouldn't have this show.
On believing in the supernatural…
Daniel: I believe in extraterrestrial life ‒ I can't accept that there is no other life form in our universe apart from Earth. There are more planets than all the grains of sand in the world, you can't say that there's no more life out there!
Samson: Juju is real. I can't say too much, but my mum saw a mermaid once when she was a kid in Nigeria. True story, man.
Kadiff: Ahh, The Little Mermaid is set in Nigeria ‒ forgot that bit…
On travelling back in time…
Samson: First thing I'd do if I woke up and I was in 1926, I'd find food. Yeah, then set myself up with a barber. Priorities, init!
Adelayo: I think I'd find family, like my grandma. I'd write a letter to Naij [Nigeria], but she'd probably say 'this is juju, what witch is coming for me?!'
Kadiff: I could go back and change history in some way, though, I'd probably go and sit at the front of the bus with Rosa Parks. There's safety in numbers, and knowing where we are today, if there were more people sitting with her, who knows where we'd be. [A beat.] Yeah, I'm deep, motherf*****s!
On playing musical instruments…
Samson: I can sing, and I can play the harmonica ‒ and I used to play the drums at my mum's church.
Kadiff: I sing too.
Adelayo: Me too!
[They all laugh at Adelayo piping up]
Kadiff: Nah, she must be joking ‒ she's terrible. Tone deaf, in fact.
On preparing for the role…
Kadiff: I watched a lot of saxophonists on YouTube to learn how to get the fingering right. And my character's loosely based on one of my family members, who's a bit of a wasteman, so I just hung out with him. Hope he doesn't read this interview…
On important historical inventions…
Adelayo: I've got to say a stove. How else am I gonna eat?
Samson: I'm thankful for the invention of Nando's, but you've gotta go to the Camberwell one, the original. No small wings rubbish there.
On bonding on set…
All at once, deadpan, after being asked if they've bonded well: No.
Daniel: We're only talking right now because we don't want it to be awkward ‒ but when you leave the room….
Kadiff: Bottles flying.
[They laugh, obviously joking.]
Kadiff: Everyone says how surprising it is that we didn't know each other beforehand, because we genuinely love each other and get along so well. We still hang out, we have a WhatsApp group, we follow each other on all social media platforms… that's how you know it's real.
Adelayo: My mum even made food for them.
Samson: As a Nigerian, this is hard to say, but her mum made some of the best jollof I've ever had.
Adelayo: And Kadiff's mum's was the best Caribbean food I've ever had, without a doubt. It was heaven in my mouth!
On people to banish forever…
Kadiff: Katie Hopkins.
Adelayo: Trump.
Daniel: I was gonna say Boris Johnson, but I kinda want to hang out with him…
Samson: The Situation, from Jersey Shore. I can't stand him! Keep Pauly D, chuck Situation in the time machine.
Catch Timewasters on ITV2, Mondays at 10.00pm.