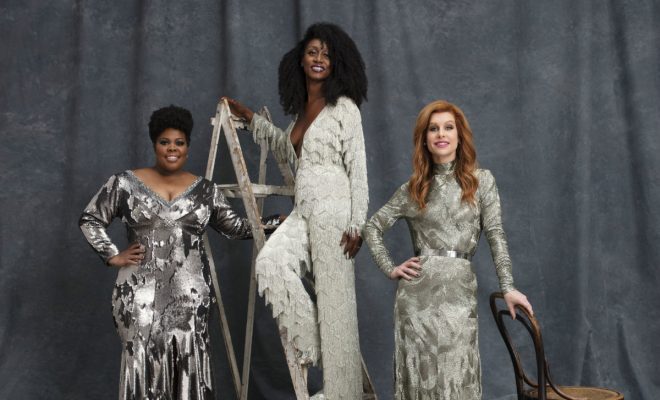 Current Issue
Beverley Knight, Amber Riley & Cassidy Janson: Musical Theatre's Leading Ladies
By
|
There are fewer things more satisfying to music lovers than when their favourite artists come together and collaborate, even for just a song, or a one-off live performance. However, for musical theatre fans, Christmas may as well already be here, because not one, not two, but three West End superstars have joined forces for an entire project of the most iconic show songs of the past half-century.
In between touring, soul diva Beverley Knight, who has stunned in lead roles in The Bodyguard, Memphis and Cats, teamed up with Amber Riley – the Olivier-winning actress who brought crowds to their feet as Effie White in Dreamgirls – and Cassidy Janson, who made audiences weep and cheer with her incredible portrayal of singer-songwriter Carole King in Beautiful: The Carole King Musical. Together, they prepare to release 'Songs From The Stage' – an album of unforgettable tracks from musicals such as Hamilton, Rent and more.
It's a triple-threat team – but happily, when I sat down with them for lunch at London's Savoy Hotel, the ladies themselves were anything but threatening! Warm, energetic, and so clearly passionate about their profession, they filled me in on the lives of leading ladies, and their takes on the West End today.
Hi ladies! It's amazing to meet you all, and for such an exciting project – how did it all come about?
Beverley Knight: My label wanted me to do something around West End recordings for quite a while, but I was doing show after show for so long that I parked the idea. Then, one evening, I'm watching The Graham Norton Show, and Amber comes on to preview a song from Dreamgirls – of course, she completely floors everyone. Then, I go to watch Beautiful with CJ performing, and I was blown away again – and I thought, instead of doing a predictable project of 'Bev Sings the West End', why not do something people wouldn't expect: all three of us, together?
Amber, Cassidy, did it take much convincing for you to come on board?
Cassidy Janson: [without hesitation] Nope.
Amber Riley: Not at all.
What's your favourite song from the album?
BK and CJ, together: 'Will You Love Me Tomorrow?'
BK: All of us are singing the whole way through, in three-part harmony – it's no joke.
AR: I can't wait for everyone to hear it, they're going to be like… [Amber makes a completely stunned face]
CJ: Insane!
BK: From the first few notes, it's under your skin.
What's been the best part of working together?
CJ: It might have been when we first worked out that song-
BK: And that was early on too! That really set the tone.
CJ: It all just happened, without really paying attention – it just fell together so naturally.
AR: There were no specifics about who would take this part, or that part – it was so organic, just feeling where our voices would sit in harmony – and we just started singing.
A run of a show can go on for months – even years – but as leading ladies, you still manage to give your all in every performance. How?
AR: Honestly, I rejuvenate every night after Dreamgirls – I really take care of myself. I sleep, I don't go out – I literally live like a nun. That's the life of a leading lady. Having to do the same thing on stage every night, making it fresh and having the voice to give it 100% – I've had to learn to stay relaxed. I pray too: my spirit and my mind needs to be nourished every day, because I literally leave it all on the stage.
CJ: When people tell you to 'just hold back a bit', you really can't. It's all of what I have, or I can't do it. When I was in Beautiful, the skin around my eyes was so dry – now they're great because I'm not bawling all the time! It's not natural to ask your body to produce that much emotion on cue for months and years on end, so that's why it's so important to fill your spirit up.
BK: If someone can show me how to hold back during 'And I Am Telling You', 'Natural Woman' and 'I Will Always Love You', I will give them a medal!
Cassidy, you played songwriter Carole King in Beautiful. What was it like portraying a real person – one who's still alive, too, and able to see it for themselves?
CJ: As an actress, there are certain styles that I know I'm good at, and habits I knew I can bring to a role. But with Carole King, I felt like I had to strip back the ways I'd play a character, because she's real, and still here – she's someone I don't have to imagine. The real Carole is very gentle, and forgiving – if someone spoke to me the way she gets spoken to in the show, they'd be in trouble! But it was really good for me, acting-wise, to have to really change; to put away my feistiness and be more chilled. But she is really an incredible woman.
Amber, what's been your highlight of this year while being in Dreamgirls?
AR: Ooh, a highlight… [taking a moment to think]
CJ: Erm, winning the Olivier Award?!
AR: Oh, yeah that was fun [laughs]. That was the first major award that I've won, and my mother and sister were here for it. When they announced my name, Mom was just so happy that she pushed me back – so you just see my first reaction being like 'Mom!' She scared me! But it was amazing to go up and collect my award, and see the pride in her eyes.
Do you think musical theatre's getting better at becoming more diverse?
BK: I think theatre has always led the charge on trying to be more diverse, ahead of other mediums. You'll see casting decisions that you wouldn't see on TV in theatre first. Hamilton's about to come to London – I like the fact that the story of Alexander Hamilton is being told with a cast diverse as you like. Motown: The Musical, and even my show, Memphis, had majority black casts, and it's great to see that, because theatre has the reputation of being entirely middle-class, white, and senior. You're seeing so many forms of theatre that buck that, and it inspires a whole new generation! It's so exciting.
CJ: Showing diverse examples of who can be on stage is so important – and it really gives you the push to go on stage on days when you might not want to.
AR: I love when I see young black girls in the audience, and they come to the Stage Door afterwards and tell me about how they never really thought that it was possible to do musical theatre, but the show's inspired them. When I look into the crowd and see girls who look like me, it makes the days where I don't feel like going into the theatre completely worth it. They're seeing something they didn't know was possible. It's a beautiful thing.
Songs From The Stage is out on November 17th.