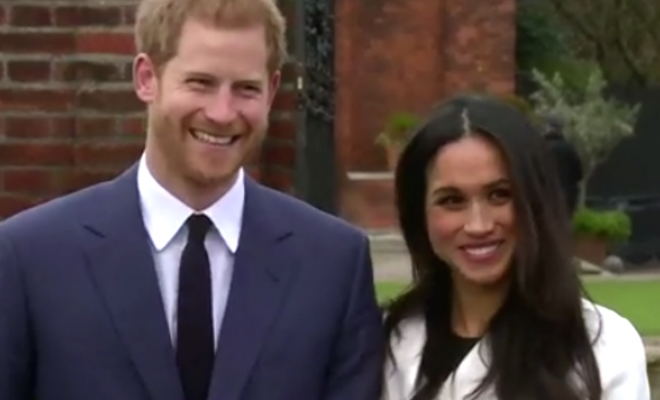 BBC News
News
Meghan Markle and Prince Harry are engaged! The BEST internet reactions…
By
|
In news that's brought a touch of sunshine to these gloomy days, it's been revealed that Prince Harry is engaged to American actress, Meghan Markle.
The happy announcement came on Monday morning (27th November), when Clarence House informed the world that Harry, 33, and Meghan, 36, would be getting married, with nuptials planned for spring 2018.
Though there'd been many whispers that the couple, who have been dating since mid-2016, had marriage on the cards, confirmation of their engagement has set the internet alight with celebration and jokes – and plenty of them have kept our sides hurting all day!
One of the most satisfying reactions for many black women has been the confirmation of something we *already knew* -that Harry would eventually end up with a black woman… we just knew!
Black Twitter UK been telling the world for the last five years that Prince Harry would get a black babes. We are prophets.

— Ohene Kofi. B (@MrBenjaminB) November 27, 2017
we knew… https://t.co/cVwANuQQp6

— Daniellé DASH (@DanielleDASH) November 27, 2017
We knew Harry was the only possible chance we had of getting blackness into the royal family.

— GHANA'S FINEST (@Ghanasfinestx) November 27, 2017
When your girl texts you about the salad she made for dinner but you can see Jollof rice in your future. pic.twitter.com/kCV37Z2Wze

— The Baby Maker (@iamsupervillain) December 9, 2015
Plenty of people are quite excited that Meghan's black mother, Doria Radlan, will soon be the mother-in-law of a British royal – and the prominent role she'll inevitable play in the ceremony:
Prince Harry's future mother-in-law is a black woman with dreadlocks. There are no words for this kind of joy.

— S. (@Samara_Linton) November 27, 2017
Meghans mum is gonna be FRONT ROW with her dreads sitting PRETTY

— Stef (@FLOTUK) November 27, 2017
Mama Markle is a black woman with dreads. The blackest you could get to them. https://t.co/wsgcWR3clH

— Doris Payne (@ohfads) November 27, 2017
Some have given their predictions for the big day, along with recommended guests and outfits:
Prince Harry better hire my man on the day pic.twitter.com/tiO8gAvzk9

— Lazarus (@ProfKumi) November 27, 2017
— Jo (@FUERTESKNIGHT) November 27, 2017
Some had predictions for how the Royals would act at the ceremony…
When the Queen tries jerk chicken for the first time at the wedding reception pic.twitter.com/ZF9yI2Sa0C

— Steph (@_sailorsteph) November 27, 2017
The royal family when they see baked Mac and Cheese pic.twitter.com/TIXsMywgMA

— MK  (@SuperFlyMK) November 27, 2017
*Prince Charles drinks Supermalt once* pic.twitter.com/NUCAFe2J0t

— Stephanie Yeboah (@NerdAboutTown) November 27, 2017
Meghan's family showing the Royal family how to Candy>>> pic.twitter.com/sEXaUxZL3a

— MK  (@SuperFlyMK) November 27, 2017
But wait… does this mean that we'll all be getting some invitations? *shifty eyes emoji*
Me, scamming my way into this Royal Wedding pic.twitter.com/5Y9SDpzOUV

— Ira Madison III (@ira) November 27, 2017
Me, arriving at the Royal Wedding after years of calling the Royal Family clapped. pic.twitter.com/QE9NdWh7Pg

— Carl Anka (@Ankaman616) November 27, 2017
Me at the Royal wedding when security ask how i got in. pic.twitter.com/i0ZzChcRmk

— Fourty (@BucklyBrown_) November 27, 2017
However, others are simply hoping that this means we'll get a bank holiday & TV treats:
New bank holiday pending pic.twitter.com/nqNPdnbCU9

— Confused Orientalist (@Habibiline) November 27, 2017
i for one can't wait for the truly terrible 'the (light-skinned) black actress and the prince' made-for-tv movies were about to get on channel 5 between now and the wedding day, tbh

— Bim Adewunmi (@bimadew) November 27, 2017
Nice one, folks of the internet!
The couple gave their first appearance not long after the announcement at 2pm on Monday, posing for pictures, and briefly answering questions from reporters.
Harry confirmed that the proposal was romantic, and that he knew she was the one as soon as they met. CUTE.
Many congratulations to the gorgeous couple!