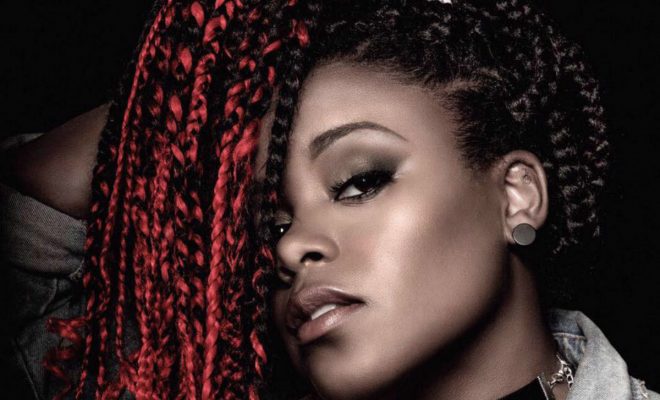 Entertainment
One to Watch: Cherri V
By
|
Meet Cherri V, talented singer-songwriter whose hit song 'The Drop' featuring Lethal Bizzle, made it to the top 20 in the UK charts. The down-to-earth artist, who recently opened for Teedra Moses, tells Pride's Aaliyah Harris about her upcoming album, future dreams and advice to young musicians starting out.
Vocally I'm a massive fan of… Faith Evans, Brandy is definitely on the list and a more recent one would be SZA! Her album, 'CTRL', I cannot get off my playlist. I aspire to her level of honesty; even if it's not necessarily painting her in the best light she's just brutally honest. I love that.
I have the capability to reach out… to other women or individuals and relate, giving some type of healing, speaking into the hearts of women. I have a love for music, which I have done from a young age, transferring my thoughts and emotions into melody and song. I find it really therapeutic.
My mum is a singer… so I always had that as inspiration. When I was young I told her, I wanted to be a singer and with her knowing what the business is like she was like 'oh my gosh, what-a-nightmare!' But she was one of the first people to spur me on and give me an insight to the industry, showing me it's possible to do what you love and do that for a living. Most of my inspiration is from life experiences and my close inner circle.
I've completely taken the filter off… when it comes to my sound. My music is a lot more honest now. In my summer single 'Leave Me Be', you can hear influences of my Jamaican background and Patois. I would've never done that on a record before, but growing up and being married now, I've realised it's okay to just love who you are. There's a lot of positivity surrounding black girls, it's inspiring to see. It makes you own yourself that little bit more.
One highlight of my career has been… the success of 'The Drop', with Lethal Bizzle – that was amazing because I wrote the hook and was able to perform on it. Some of my highlights are yet to come. I'm looking forward to releasing this album, 'Brown Eyed Soul'. It will be autobiographical and there are a few issues I'm touching on: self-awareness, colourism and relationships. The album is honest, soulful and authentic.
I'd love to perform at… the MOBOs one day, someday, somehow, some way! I'm doing London's Black Magic Awards – a highlight for me because of what it celebrates and who's behind it. I love Wireless and Lovebox too, there's a few on the list I would like to do next year. I want to get out and perform in Europe.
If I wasn't a singer… I think I'd still be in the performing arts. I was a professional dancer and I thoroughly enjoyed that. Or working with children because I love them and I can't wait to have my own… but for now it's good to give them back!
I feel like the Internet has been my biggest tool for getting noticed… Use what you have to get music out there; we can't ignore what age we're in and how amazingly that could work for you. Stay ready man; stay true to you and don't be afraid of being your true authentic self.
Cherri V's new single, 'Things You Do', is out now.