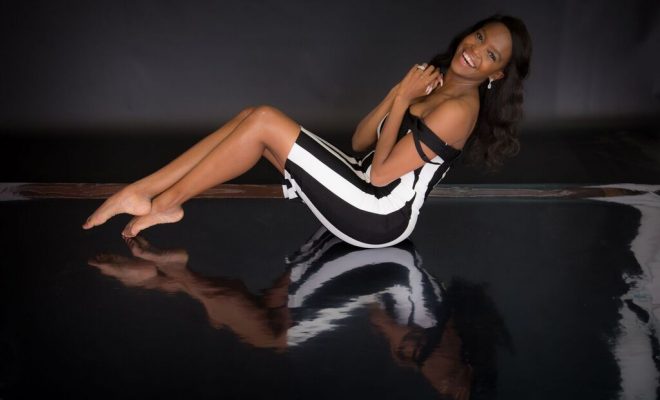 Fiona Whyte Photography
Entertainment
Oti Mabuse: Strictly's Dancing Queen
By
|
Black women are no strangers to being the first to achieving greatness in their respective fields. Every year, there are more and more black women defying expectations and forging their own ways in spaces that they're not expected to be in, and becoming role models for many women and girls who look like them, whether they realise it or not.
And in 2015, Oti Mabuse did just that in becoming the first black professional dancer on BBC ratings smash, Strictly Come Dancing. Despite the show having been on for twelve series before that point, we'd yet to see a featured black professional on one of the country's most highly-rated entertainment programmes ‒ and I, as much as plenty of other viewers, was excited to watch, as soon as her promo pics hit the news.
Sadly, Oti's first run on the show was short-lived after getting eliminated in week two alongside boxer Anthony Ogogo. Nevertheless, the bubbly South African more than made up for lost time the second time around, making the 2016 final with Hollyoaks actor Danny Mac.
Preparing to set the dancefloor alight with impeccable routines and rhythmic prowess once again, Oti found time for a chat with Pride. She was sweet and full of energy, despite our conversation coming after a long day of rehearsals for the 2017 opening show, in which it was revealed that she's paired with British paralympic sprinter Jonnie Peacock.
While many viewers comment on the 'Strictly curse' ‒ the instance of partners falling for each other during the course of the show ‒ it's clear that Oti's husband, fellow dancer Marius Iepure, has nothing to worry about: during the interview, which happened to take place on his birthday, she often broke off to speak lovingly about him.
In a friendly and insightful conversation, the 27-year-old gushed about her husband, an adolescence spent juggling dance, academics and the expectations of parents, and the torch she hopes to carry for black girls, dreaming big, all over the world.
Hi Oti! How are rehearsals going?
Oti Mabuse: Hectic! Today we had to go over three numbers for the launch show, and we crammed it all in within the space of four hours, but it was good!
Let's start at the very beginning; how did you first get into dance?
OM: I started dancing Latin & ballroom when I was four, when I was still in South Africa. My mum had a dance school, so me and my sisters naturally started dancing very young. When I was 16, I also picked up jazz and contemporary dance to broaden my dance skills and become more versatile and then I continued dancing until I was 21.
In all that time, I became the South African champion, and the ten-time provincial champion – but then I took a bit of a break from dance to study civil engineering at university.
That's a bit of a departure!
OM: The thing is, in South Africa, you have to have a strong education. There's no other way to really survive without it; everybody is going out of their way to go to university and get their proper qualifications. In South Africa, you go and study, no matter what your creative passions are ‒ and as a young black girl, you have to do something worthwhile. It's the classic thing of your parents saying, 'you have to be a doctor, an engineer, a lawyer' ‒ you don't get much to pick from!
I chose to be an engineer, specialising in civil and waterworks; that's where my academic passions were, because I do like to think and use my brain. But when I started to work, I hated it! I knew very early on that an engineering career wasn't for me, not at all. Plus, working meant that I had no time for dancing and competing, and that was really difficult. So I decided I had to follow my heart: I didn't feel the same.
What happened next?
OM: I moved to Germany, and I started dancing full-time there for about five years. I was noticed by people from the German version of Strictly, called Let's Dance. My sister [Motsi Mabuse, also a dancer] actually works on the judging panel. Then after the very first show, someone from BBC saw me, and I got cast to do the British version! I did one season of the show in Germany, took a few months break, and then I started working on Strictly in the UK in 2015 ‒ and I've decided to stay on, because I love it so much here.
With your sister a judge on Let's Dance, and your mum owning a dance school, did that make it easier to tell your parents that you were going to pursue dance full time?
OM: It's very difficult for any parent to hear that their child is doing something completely different to the set plan. My parents come from a time when they had to really fight for their education, and for ours as well. So once you go through years of study, and then say, 'Right, though I've gone to university, I'm not gonna work in that field,' you tarnish everything they've worked for. And that's got to have hurt their feelings. I think it's worse that two of their daughters are so far away in a different continent, and as they get older we do fear that we're a little bit too far from them. But at the moment, it's just our lives now, and we're trying to build our careers.
Would you go back?
OM: For now, I'm still trying to find my feet in Europe. I left home for Germany when I was 21, and it was really difficult getting to grips with the culture and the language. It's amazing in Germany, but still very different from South Africa. Now that I'm in the UK, I'm liking things a little bit more. My husband and I are trying to find our feet here, now that he's moved over here while I work on Strictly. He's Romanian, but like me, he moved to Germany to dance. We actually were dance partners first, then fell for each other, can you believe? Now he's here, he's even going to be involved in some Strictly numbers. I'm really excited for him! It's really special to be able to do this together, and it makes us both so happy having him here with me.
Was the long distance difficult before, while he was based in Germany and you were here?
OM: The most difficult part was in my first year, when I got eliminated quite early. I was here, alone, with so much time on my hands ‒ I wasn't training, I wasn't teaching, I wasn't working, just sitting at home, waiting to dance in the group routines on Saturday. But last year, I was heavily involved all the way until the final and you're so busy, you don't have the time to miss your partner.
Do you feel more pressure to succeed as a black woman in a field where there aren't very many of us?
OM: Maybe not pressure… more of a feeling that I have the opportunity to open the door for a lot more of us girls. Latin & ballroom dance is not something you see a lot of African people interested in, because it's not in our culture ‒ we're much more likely to specialise in afrobeats, or contemporary, or hip-hop, which is great but I feel like I have the opportunity to let people who are interested in Latin & ballroom know that 'hey, it's okay! You can do it!'
I love the fact that Strictly is so popular and that it can provide such a big platform. I feel very honoured to be the first black dancer the show's had, and to set out the path for others who come after me. And you stand out in big numbers! [She laughs.] Whether you're at the back, deep in the middle, your eyes go to me ‒ so that's fun!
Was the European Latin & ballroom dance scene welcoming to you as a black woman?
OM: I'd actually say that one positive thing about the UK and Europe in general is that people are always open to something new, special and different. When I came up in the dance world, it was the time when Michelle Obama was the First Lady in the States, and the rise of 'black girl magic', and people becoming more open to black women succeeding. There was a boom of black women taking up space in the culture ‒ so I feel as if Strictly really wanted a black woman on the show to be a part of that, the time was right and the viewers were ready and eager for something new.
How do you deal with often being the only black girl on the dancefloor?
OM: I don't look like the others, but I train day and night to be at the top of my game. I don't have the same body movements, or the same body type, but I work really hard. I like to be so good, that no-one can have anything to say about me; my dancing speaks for itself. When you're different, that can lead to judges not marking you right because they think you look 'odd' ‒ and that's in any competition. I work very hard to make sure that won't happen. I'm determined to not let my skin colour or the fact that I come from Africa to be a hindrance. I want to use it as something special so that when I go onto the dancefloor, you notice me for all the right reasons.
It's rare to see black women on such a big, national platform. What does this opportunity for representation mean to you?
OM: It's very difficult, because when you walk into the store, you don't see brown skin dolls, you don't see it much on the covers of magazines. The other day, a little girl told me, 'you look like my Barbie' and my heart just melted. Representation is so important. I think every child, woman, man needs a hero, someone to aspire towards.
Growing up in South Africa, a lot of my inspirations ‒ my dolls, the people I saw on TV, the cartoons ‒ everybody looked like me. And then, when I got to Europe barely anyone looked like me on TV! In the beginning, I was really thrown by it. But then you have to break it down in your brain: in the UK, the TV programmes are made for the majority, and it's a way to make money, so I guess it makes sense to cater to what most of the viewers look like. But then, that means that we, as people of colour, have to find ways to create and be our own heroes. And I find it really special that in some way, I can add to people's list of black girls doing good.
Have you ever been starstruck?
OM: It's been amazing: I've met Alesha Dixon, Alexandra Burke, Jamelia, Tameka Empson… Can you imagine me, as a little girl on the other side of the world, seeing all these stars on TV, and then all of a sudden I'm meeting them and dancing with them? Meeting Jamelia in particular was amazing ‒ I know all the words to her songs! Things like that, I would've never gotten to experience if it wasn't for Strictly, and even if they don't know it, I've looked up to them, and I'm so glad I can now call them friends!
Who would be your dream celebrity partner?
OM: Zac Efron, hands down. He'd be the dream! Or, Prince Harry, I feel like he'd be really fun to work with.
Where do you see yourself in five years' time?
OM: I'll have my own dance school, and a company to run events with the other Strictly dancers! I love acting, so maybe I'll be doing more of that on stage or screen. And I'll still be married to my husband, and ready to handle whatever exciting things that life throws my way. When you're young, you have a plan and you say 'by this age, I'll be dancing full time, I'll be married by 25, kids by 26,' and so on ‒ and though I've ticked the marriage part off my list, the plan is completely different to the way my life is now ‒ and that's for the better. I'm just trying to go with the flow right now.
Watch Strictly Come Dancing every Saturday evening on BBC One