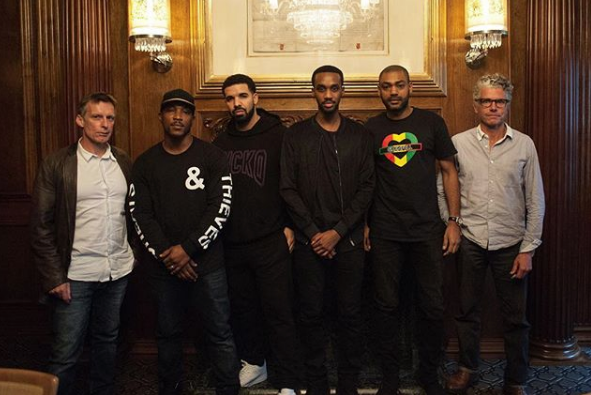 Photo source: Instagram
featured
Netflix confirms development of new Top Boy series – thanks to Drake!
By
|
It's been a running joke for the past couple of years that Canadian rapper and general gem, Drake, wants nothing more than to be British – and a lad from a London estate at that. Rubbing shoulders with grimes finest, and making some classic south/east London slang terms a staple in his vocabulary.
And now, he's proved his commitment to black British culture once again, as it's been revealed that a new series of Top Boy is coming our way – and Drake's had a big hand in making it happen.
The show, which aired its most recent series in 2013, explores the drug trade in a fictional housing estate in Hackney, east London. Starring Ashley Walters and Kano in lead roles Dushane and Sully, the show was frequently a hot topic amongst young people, and received positive reviews and ratings.
Though it's been off-air ever since, Top Boy will find its new home on Netflix in 2019 – and it seems as if much of the reason for this is due to the enthusiasm and belief of none other that Drizzy himself.
In their announcement thread on Twitter on Wednesday (8th November), Netflix UK explained how this had been a long time coming, and started when the rapper became a fan of the show three years ago, and approached them about reviving it.
In October 2014, @Drake posted this photograph on Instagram. pic.twitter.com/NtBlkKlhzy

— Netflix UK & Ireland (@NetflixUK) November 8, 2017
'In October 2014, @Drake posted this photograph on Instagram', the streaming service began their announcement.
'He had discovered a British drama series called 'Top Boy', starring @AshleyWalters82 and @TheRealKano. Several months ago, @Drake came to us with a passion to help bring #TopBoy back to life, with the original creative team.
'And so, in 2019, we're going back to the Summerhouse Estate for an all-new chapter of @TopBoyNetflix.'
The exciting news was also confirmed by Walters, who said that he's happier for the fans than he is for himself – which must mean that there's some seriously good stuff in store for us to watch…
So after years of speculation and anticipation I can finally reveal that we have managed to secure a brand new home for the new season of TOPBOY! In all honesty I'm more happy for you guys than myself.

"We're going back to Summerhouse. @TopBoyNetflix 2019 pic.twitter.com/i2WoNPCwfy

— Ashley Walters (@AshleyWalters82) November 8, 2017
Already, the news has excited many viewers and fellow enthusiasts for the former Channel 4 series, with hundreds of people liking and retweeting the various announcement within minutes.
Drake will serve as an executive producer with his business partner, Adel 'Future' Nur – and we're holding out for a little cameo too. He's more than earned his spot on the Summerhouse Estate, don't you think?