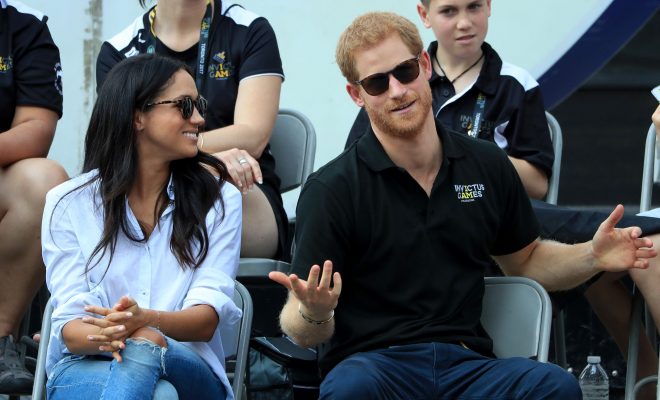 Entertainment
The Most Joyful Moments of 2017: The Year in Review
By
|
Doesn't it feel like just the other day, we were rejoicing that 2016 was finally coming to an end, and looking forward to much better things in 2017? Somehow, we've already reached the end of 2017 ‒ and although it hasn't been completely free of low points, on the whole, this year has given us much to celebrate. Take a look back with us as we remember this year's highlights….
Cardi B and Offset: A Hood Love Story
Once upon a time, there was a girl named Cardi, who liked rapping, sticking her tongue out, and 'bloody shoes' (also known as red-soled designer footwear from Christian Louboutin). One day, she met a boy named Offset, from the house of Migos; he also liked rapping, dark sunglasses and low-cut shirts.
They started dating, and while many outsiders waved their relationship off as a fun fling, their love bloomed against the odds ‒ and in October, Offset surprised Cardi on stage and proposed in front of thousands of fans. It's clear that they're head-over-heels for each other; and though we have no idea where their romance will end up, for now, we're happy to revel in their unlikely love. Here's hoping 2018 brings us one hell of an extravagant wedding to ogle on Instagram!
Maxine Waters taught us to reclaim our time
Few people can express their disdain for the current US President and his administration as consistently, as eloquently, and as entertainingly as Ms Maxine Waters, the California congresswoman with a sharp tongue and an even sharper glare. And 2017 saw her securing her spot in the hearts of millenials and young adults of the States with her viral takedown of a delegate who beat around the bush in response to a direct question she asked.
'Reclaiming my time. Reclaiming my time,' Congresswoman Waters repeats in the viral video, until her opponent relents. Now, the phrase 'reclaiming my time' has taken on a life of its own, with people of the internet applying it to a range of time-consuming activities (dealing with problematic partners, and doing overtime at work being popular examples).
We thank Ms Maxine for making us aware of this major life mantra, and vow to reclaim all the time owed to us from this moment forward.
The first Black Girl Festival
Over the past few years, there has been more discussion than ever about the importance of marginalised groups having their own spaces to celebrate, and feel safe in. And in October, black girls of the UK got their own festival!
Through the tireless work of Paula Akpan and Nicole Crentsil, the festival was a celebration of all that makes black women wonderful, filled with craft stalls, specialist-led workshops and inspiring talks from bloggers, industry leaders and more. Eager folks queued for hours to get in, so the demand for this kind of event is definitely there. Can't wait for the 2018 festival ‒ bigger and better!
Lena Waithe: Emmy star
It's shocking that even in 2017, there are still 'firsts' that are occurring for black women in the entertainment world. However, when they happen, it's only right to celebrate them ‒ and Lena Waithe is certainly someone who deserves her flowers.
In September, she became the first black woman to win an Emmy for comedy writing for the 'Thanksgiving' episode of Netflix original show, Master of None.
The episode, which she co-wrote with show creator Aziz Ansari, is a semi-autobiographical story telling how her character, Denise, came out as gay to her mother, played by the wonderful Angela Bassett. She told reporters backstage of how she hopes her win now shows others that they can also achieve such accomplishments: 'There's so many other funny women of color. I hope they will now have an opportunity because this door has been opened.' An inspiration for black women, and LGBTQ creators everywhere ‒ rock on, Lena!
Meghan Markle, our royal representative
In July's issue of Pride, we published an interview with Suits actress Meghan Markle and speculated about whether she'd soon be joining Britain's best-known family as the wife of Prince Harry. And in the months since, their romance has only blossomed as the red-headed Royal made a huge step and proposed, and they're set to be married on May 19th next year.
This year has been a crucial one for their relationship, with public displays of affection and declarations of love aplenty. As well as this, they showed their cute and playful side together during a BBC broadcast interview as they reminisced how Prince Harry proposed, with constant smiles they seem like the perfect match.
On December 21, the pair released intimate portrait photos with each other to mark their official engagement and we can't get enough.
Prince Harry and Ms. Meghan Markle, December 2017. pic.twitter.com/HrAc9FeN51

— Kensington Palace (@KensingtonRoyal) December 21, 2017
The celebrity baby boom
We believe the children are our future ‒ and judging by the lil' ones who've entered the world this year, the future is bright indeed! Pharrell Williams and wife Helen Lasichanh welcomed triplets in January, who joined their first son Rocket.
Ciara and quarterback hubby Russell Wilson added to the stream of A-list newborns with their little girl, Sienna Princess Wilson, in April.
Then, Beyoncé and Jay-Z welcomed their second and third children in June; a daughter named Rumi, and a son named 'Sir Carter'. ITV newsreader Charlene White had her first child, a son named Alfie, in August, and Serena Williams gave birth to her first child in September: a daughter, Alexis Olympia Ohanian Jr, with fiancé and Reddit co-founder Alexis Ohanian. And these are only eight of the celeb babies we've 'met' this year! There's a whole new generation of excellence among us now; they'll be giving us life in each of their fields before we know it!
Fenty Beauty stormed the world
The Bajan singer and style icon's made her first foray into beauty this year, with much of the promotion stemming from its wide range of foundation colours, and its suitability for skin of all colours.
It's safe to say it's going well; with items selling out, and the range being honoured at the Beauty Innovator Awards, Fenty Beauty isn't going anywhere any time soon. We're happy for Rih ‒and woeful for our bank balances…
Black British Boy Joy
Stormzy, J-Hus, Michael Dapaah, Mo the Comedian and Elijah Quashie (The Chicken Connoisseur) are just a few examples of black boys who've done well for themselves this year. From chart-topping albums to viral videos and tours, some of our bros have been getting rightfully recognised for their talents ‒ and we couldn't be prouder!
More Black & Minority Ethnic MPs than ever
June 2017 saw the country vote in a snap election, which happily resulted in parliament becoming more diverse than ever; 10 new MPs from non-white backgrounds were elected, taking the total in the House of Commons from 41 to 51.
Among those newly-elected includes Marsha de Cordova: a black female politician who is registered blind and Battersea's first Labour MP since 2010. Is UK politics finally becoming more representative of the people of this country?
Vogue for all
November 2017 saw the official launch of Edward Enninful's reign as editor-in-chief of British Vogue. After 25 years under the management of former editor Alexandra Shulman ‒ during which black models only featured on the cover 12 times ‒ Vogue, to many, was in need of a vital shake-up. And Enninful did just that.
His first issue launched in November, and was met with plenty of intrigue and excitement ‒much of it stoked by the beautiful cover image of mixed-race model and mental health campaigner, Adwoa Aboah.
Though some magazines have been putting black women front and centre for years (ahem!), we're so happy to see an active decision by mainstream publications to be truly more inclusive.