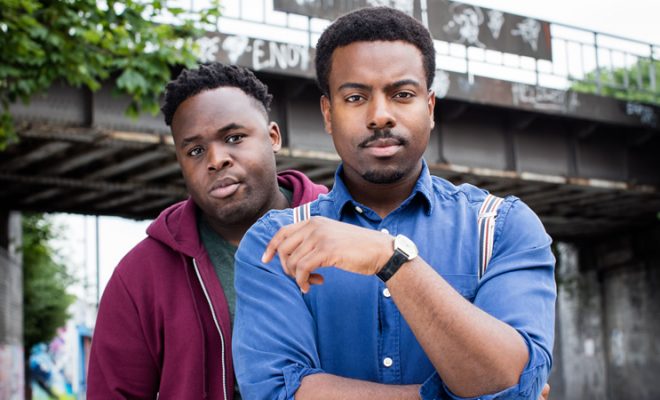 Entertainment
Pride meets Samson Kayo & Akemnji Ndifornyen – stars of BBC3's Hailmakers
By
|
In need of a new favourite show? Then you may want to consider new sitcom Hailmakers, new to BBC Three online.
Created by Jon Macqueen (PhoneShop, The Javone Prince Show), the cheeky comedy stars Samson Kayo and Akemnji Ndifornyen star as two of "the country's lowest-rent entrepreneurs" Saz and Sol, as they land themselves in a series of outrageous dilemmas.
Just as hilarious off screen as they are on screen, Pride's Rhia Harry spoke to the pair about their best filming moments, embarrassing things they've done to save money, black culture in TV and more!
So guys, what did you enjoy most about filming the show?
Akemnji: Working with Sam!
Samson: Working with A.K.!
(both laugh)
Samson: Ah you ruined it. That was supposed to be my line.
Akemnji: It was actually so much fun, we knocked it out in 4 days, 4 days of just joy. I've worked with Sam quite a few times and it was lovely [and] obviously Jon McQueen.
Samson: Yeah, Uncle Jon! It was a fun, family crew!
What did you enjoy most about working with each other?
Akemnji: I genuinely like trying to make Samson laugh, not even because I'm funny, just because Samson is the gigglier of gigglers.
Samson: I'm like the worst corpser.
Akemnji: I used to sometimes do tiny little things just to see what Samson would do and then he'll be like AK you're a d**k-head.
Samson: And we'll be gone! It took us about an hour to do a 2-minute scene.
What sort of person is going to love the show?
Samson: It's just that camaraderie, heart-warming comedy that doesn't take itself too seriously.
Akemnji: It's also something that everyone would be able to relate to. It's about two friends trying to make a buck and always having that safety net of friendship that says I've got you, you're an idiot but I've got you.
What is the most stupid or embarrassing thing you've done to save money?
Akemnji: My sister cut my hair as a kid; she got in trouble for it. That was pretty dumb.
Samson: I was in L.A. I went to the dollar store and bought 20 dollar black T-shirts, I wore them everyday for 20 days to save money, 20 dollars for 20 t-shirts, are you mad, come on.
What is the biggest thing you've ever splurged on?
Samson: I'm very tight. I don't really buy a lot of brand stuff. I bought a Louis Vuitton belt once, but I lost it in Barcelona.
Akemnji: That means it's not you bro.
Samson: There you go!
Akemnji: I used to spend a stupid amount on trainers. I keep it very simple right now, I have one outfit and I stick to it.
Samson's gonna laugh at me… but I buy plants now! I have key plants for every room.
What do you appreciate most about Jon Macqueen's creative and written style?
Akemnji: I appreciate the fact that Jon wrote the parts for us. Jon, from day dot, presented these characters to us and got us on board from the jump and respected our ear.
Samson: Jon is my white uncle. He's so cool, we've known him for 4 years. We kind of expect him to write something really cool and funny because it's Jon. He taught me how to write.
Akemnji: Same!
Samson: We're protégés of Jon McQueen. We're fruits of his labour!
It's great how you incorporate a lot of afro-Caribbean culture, how important do you think it is to explore these in black TV shows?
Samson: It's a must – because we exist. We have our own culture, our own stories, humour, taste in music and style, in speech. We need to incorporate that. There are black people that speak in English RP and there are black people that speak the other side, it's about time we put those two together and make it cool. London's a diverse city. It's time we embrace that.
Akemnji: Just the fact that the actors playing them are from Afro backgrounds, it just goes without saying the story's going to be infused with that. There's equally a spate of other TV shows with leads of similar backgrounds that are doing great work.
Samson: Every person has an individual voice, there is humour everywhere.
Akemnji: You should be looking at the people vs. where the people are from. Like look at my name on a piece of paper, my name brings with it a weight of like – Zamunda!
Samson: Wakanda! (both laugh) It is long!
Akemnji: It's people's souls and their characters and who they are that speak through whatever shell they're in.
Samson: We need to get to a point where we don't feel like we're unaware. How does it feel to be black?
Akemnji: I mean, I've been black for a while now. (both laugh) There's so much amazing talent coming through, the joy would be to get to the point where we're not looking at it.
Hailmakers is out from Monday 4th December on BBC3