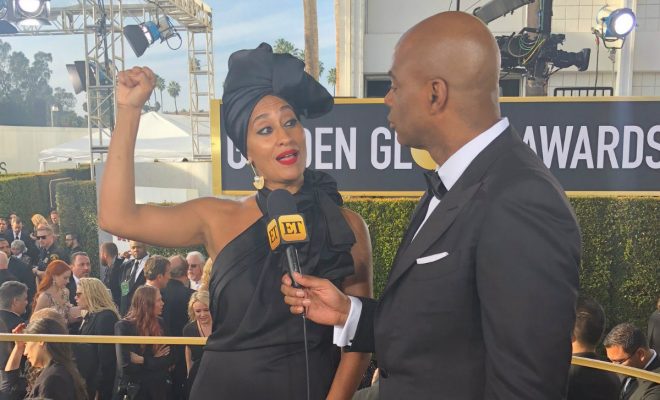 Entertainment
The 6 BEST moments from the 2018 Golden Globes
By
|
For many of us, the start of the year signifies the beginnings of a well-intentioned healthy eating plan, disappointing bank balances, and mornings so dark it feels like you're setting off to work in the middle of the night.
However, for a more glamorous bunch across the world in Hollywood, January also means the start of the awards season – in place to celebrate some of the finest work over the past 12 months in the film and TV industry.
Sunday night (7th January) marked the first of this year's glitzy award bashes: The Golden Globes. As well as it being a nice opportunity to see some of our faves out of character, this affair was a landmark event for speaking out against inequality, with some unforgettable speeches and statements. Here are six of the standout moments:
All black everything
The allegations and tales of sexual harassment in Hollywood since the late months of 2017 has sent shockwaves throughout the entertainment industry and beyond, and doesn't show signs of letting up any time soon. With this being the first major event following the massive Harvey Weinstein revelations, and further exposes of harassment in the industry, it was inevitably on everyone's minds.
And to acknowledge this, the majority of guests wore black as a sign of solidarity with those who have suffered, and to make it clear that there's no room for such acts in Hollywood any longer.
Founder of the #MeToo movement, Tarana Burke, attended the awards as the guest of nominee Michelle Williams, and was given the space to speak out about the work done, and the future of equality for all:
"The thing that is most powerful is that it's women across the spectrum. It's people across all genders, all races, all classes," says our Senior Director @TaranaBurke on today's movement for gender equity. #GoldenGlobes #TIMESUP pic.twitter.com/pRLQkGIjtH

— Girls for Gender Equity (GGE) (@GGENYC) January 8, 2018
Oprah shut it down
To be honest, any list with Oprah in it can just be concluded after her name is mentioned – she's an icon. And in Sunday's ceremony, she was rightfully awarded for it, as she received the Cecil B. de Mille award – the first time a black woman has been given the award.
She used her eight-minute speech to acknowledge the first black recipient of the award, Sidney Poitier, as well as the life and story of Recy Taylor, a survivor of a racism and rape, and activist who recently passed away at the age of 97.
'I want all of the girls watching here now to know, that a new day is on the horizon,' she said to rapturous applause in the auditorium. Watch the powerful speech in full below:
"I want all of the girls watching here now to know, that a new day is on the horizon." @Oprah accepts the 2018 Cecil B. de Mille award. #GoldenGlobes pic.twitter.com/hbquC1GBjm

— Golden Globe Awards (@goldenglobes) January 8, 2018
Tracee Ellis Ross' headwrap and fist combo
Black-ish actress, Instagram star and all-round favourite Tracee Ellis Ross is no stranger to giving us a strong red carpet look – and the 2018 Golden Globes were no exception. Here she is, throwing up a first and letting harassers and perpetrators of injustice know that time is well and truly up:
ICYMI, here's @TraceeEllisRoss serving up an absolute MOOD for 2018. Time. Is. Up. ✊🏿✊🏾✊🏽 #GoldenGlobes pic.twitter.com/rmNDPqs4oX

— PRIDE Magazine (@Pridemag) January 8, 2018
Sterling K. Brown made history
In another 'black first' on the night, This Is Us actor Sterling K. Brown made history by becoming the first black man in the awards' 75 years to win the accolade for Outstanding Actor in a Drama Series.
Now, if you've seen even one episode of touching family drama This Is Us, you'll know that 41-year-old Brown is more than deserving of the award – which follows a Best Actor win for the same role at the Emmys, last September. However, it remains a sad reality that in 2018, we're still celebrating 'firsts' like this. Here's to a commitment to change from this day forward!
"After 75 years Sterling K. Brown is the first African American man to win the Golden Globe for best actor in a TV series." #GoldenGlobes 

This is still sitting with me.
This is why we still fight. pic.twitter.com/ytvWcKnKtS

— ALEX HAYNES Ⓜ️ (@AlexUnmuted) January 8, 2018
Viola Davis' incredible look
Queen Viola served us Angela Davis realness on the red carpet, with an amazing 'fro, teamed with plenty of neck sparkles and her ever-stunning smile. Shut it down, ma'am!
Viola shut down the Golden Globes, y'all. pic.twitter.com/CsuVQ5eXM3

— The Undefeated (@TheUndefeated) January 8, 2018
Oprah and Gayle defining true friendship
Okay, we know that Ms Winfrey's already occupied a spot on this list, but we couldn't end without this hilarious and sweet moment from before the ceremony, in which Oprah informs best friend Gayle King that her elbows are giving a touch of 'Ash Wednesday'… if Oprah can't tell you to lotion up, who can?