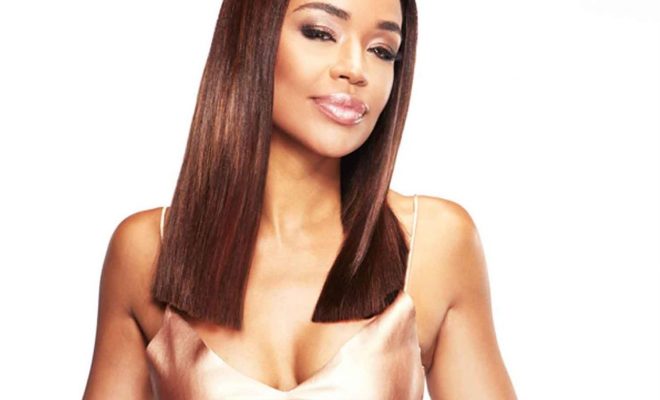 Beauty
Beauty Talks with Sarah Jane Crawford
By
|
The TV presenter talks about her favourite hair extensions, beauty must haves and her signature perfume.
What are your hero hair products?
I like the Elasticizer from Philip Kingsley that you put on before you wash the hair, Kiehls damage repairing conditioner [and] I love Shea moisture, they've got loads of different brands that are paraben free.
What hair brand do swear by?
Remy touch Sleek clip-ins. The hair is smooth and silky but still the right texture to blend in well with blow-dried textured hair. The colours match perfectly with my natural hair colour (1b) or my lightened hair colour (2 and 4 combined).
What beauty tools do you like to use?
GHD straighteners. You wrap your hair around it and it gives you that cool beach wave without it being too curly, which is wicked!
What's in your makeup bag?
I've recently been using NYX, there's this amazing collection pallet I use for contouring. I actually like my face with no makeup, but if I'm going out in the evening… I'll use MAC foundation fluid and mix it with the Maybelline foundation [and] Laura Mercier setting powder to finish it all off.
What are your favourite lip colours?
I wore red so much, so I'm trying to drop that. It's better to have a nude lipstick where it naturally comes off. Any nude colours from Tom Ford, I adore! If I need a precise look, I'm really loving the dark berry colour tinted lip-glass from MAC, it suits brown skin so it's really fun to wear.
Favourite lashes?
I go to Perfect Eyelashes in Kensington. I like full lashes, I don't think I look like it's too much because I've got big lips (laughs) so it slightly evens out my face. I would say more is more!
What are your go-to skin products?
I like Eminence eye cream, that's amazing because I've got sensitive eyes, so I use a really nice natural one. I like Sukin, it's a vegan paraben free range – the toner mist you can spray on during the day when your make up is on, it just refreshes your skin.
Do you have a signature perfume?
Molecule 01 is the ultimate perfume I buy it everytime! Everybody is like oh my God what is that, everyday it's a guarantee!
Who is your beauty idol?
Sadé! We both have similar skin tone, similar hair, she's just really simple and she just keeps it timeless. She's aged so well and grown old gracefully.