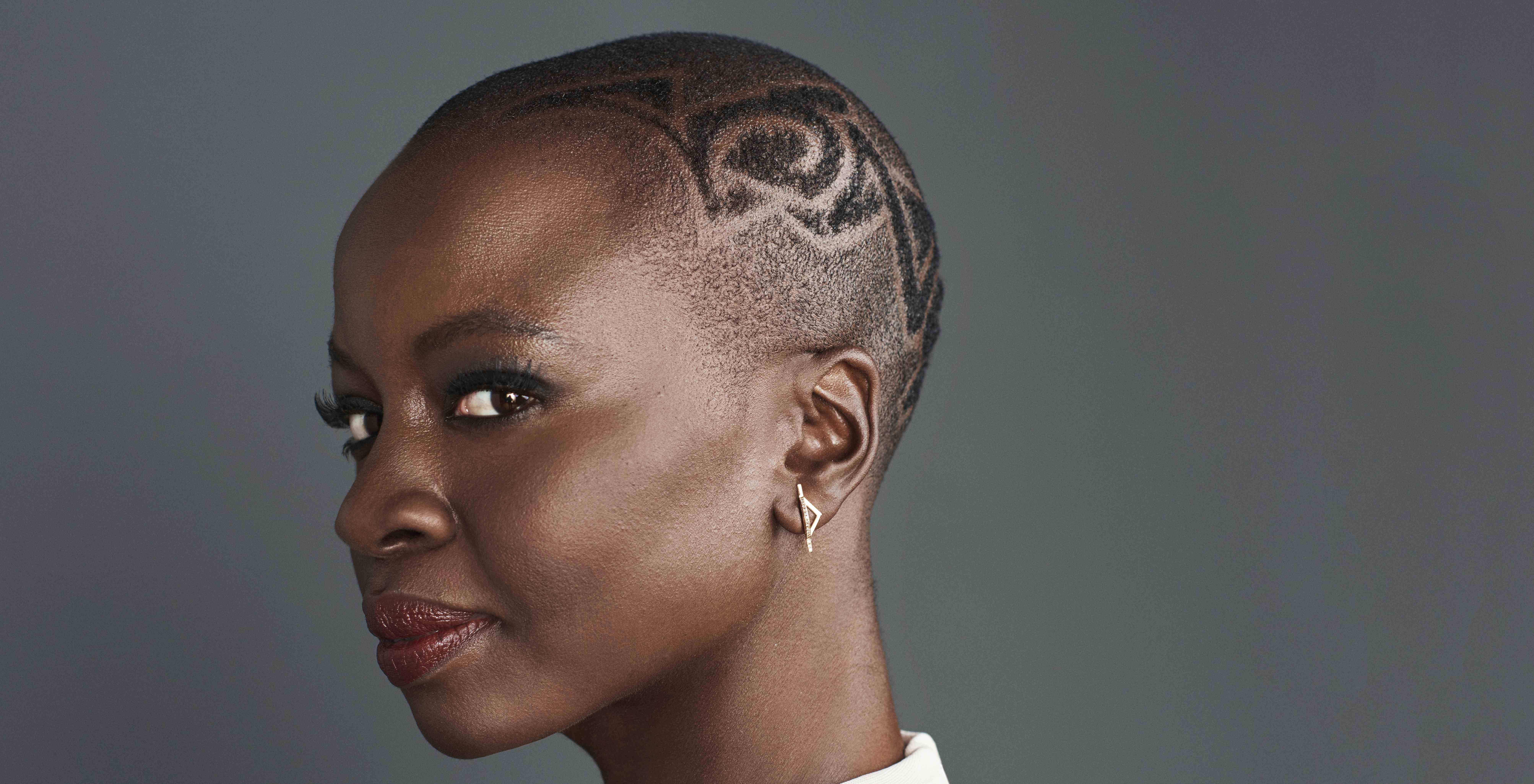 Matt Kennedy/Marvel Studios
Current Issue
Black Panther's Danai Gurira: 'I've always been unapologetically black'
By
|
The actor and playwright speaks to Pride about Black Panther, unapologetic blackness and putting African stories on a major platform
It's easy to be a fan of Danai Gurira.
From seeing her play machete-wielding warrior Michonne on post-apocalyptic drama The Walking Dead, to her other roles of note such as Afeni Shakur, the mother of late rapper Tupac in 2017 film All Eyez On Me, a sense of nuance and intensity in each of Gurira's performances draws viewers in, right from the get go.
You may also be drawn to her stunning looks ‒ where her long-time character Michonne has more of a stoic demeanour, the Danai you see in any TV interview is effervescent, quick-witted, and unafraid to spread her dazzling smile.
And as well as acting in major projects, she is an esteemed playwright, with four plays having been performed on Broadway, and she makes a conscious effort to give back, where she can ‒ her own non-profit organisation, Almasi Arts Alliance, creates opportunities for African artists to have their work seen on a global scale.
With all of these accolades under her belt, it seems only right that her next role is in the realm of superheroes; she's one of the leading cast members in new blockbuster Black Panther, and most likely about to gain a whole new fanbase.
And when I speak to Ms Gurira, it's the day after it was revealed that Black Panther has broken pre-sale records, making it the most anticipated Marvel film ever. With weeks to go before its worldwide release, the superhero flick's early popularity must feel wonderful for all involved in its creation.
'It's fantastic,' she admitted. 'We've had a lot of awesome support for the film and we've felt a lot of excitement for it. I just came back from Zimbabwe and there's so much excitement there. We definitely put our hearts and souls and whole bodies into this, so I'm excited for how it's gonna be received.'
Talk of the Black Panther film has been slowly, but steadily building since the project was first announced in 2014. However, when the first trailer for the film hit the internet in June 2017, the amount of excitement for the project rose to new heights. People took to social media in their tens of thousands ‒ potentially more ‒ to express just how ready they were for the film, from setting release countdowns on their phones to bragging about the fabrics they'd be getting imported from Africa to make their outfits for the cinema screening.
The film is the latest offering from the much-cherished Marvel Cinematic Universe, and is based in the fictional African country of Wakanda. After exploring the world, T'Challa – played by Chadwick Boseman – returns to the nation following the death of his father, yet his adversary Erik Killmonger (Michael B. Jordan) does everything in his power to stop his rise to the throne. Danai plays Okoye, the no-nonsense leader of the Dora Milaje – the nation's all-female special forces unit.
With other citizens of Wakanda being played by the likes of Angela Bassett, Forest Whitaker, Letitia Wright, Sterling K. Brown, Daniel Kaluuya and Danai's long-time friend, Lupita Nyong'o, it's an ensemble cast of dreams. However, for many, much excitement for the film for many comes from just how much the film is steeped in blackness, on multiple levels. With Ryan Coogler taking the reins as director, as well as co-writing the script with Joe Robert Cole, Black Panther is not only set in an African country, but boasts a majority black cast, and has representation of black people at a production level as well ‒ something that is rare for Hollywood, and even more so in the realm of superhero films.
In a time where it seems an increasing number of people are emboldened to express racist views and act with prejudice, just the concept of Black Panther, a virtually all-black fantasy film, feels like something of a soothing balm for many viewers, all over the world. What, then, must it feel like being part of a project so large, so yearned for, and so unapologetically black?
'I've always been unapologetically black, so I don't know what it's like to be anything else – I don't know how else to be,' Danai responded, with a chuckle.
'I've never apologised for being black, never will…and why would I?
'As a storyteller, I tell African stories. All my plays are about African people – it's kinda my thing. That's why it's a no-brainer for me, putting Africans on this level of a platform, it's long overdue – thank God it's finally happening. African stories give a fantastic perspective that the world needs to see. It's a joy to me that we got to speak in Xhosa in the movie, an actual African tongue – the world should hear our language spoken by us.
'Why not? My whole question is why not? It's about time. It's something that I've always advocated for, and I've done in my own small way as a playwright. So of course, unapologetic it must be; there's nothing to apologise for.'
Of course, she's absolutely right – and her commitment to providing a mainstream platform for authentically African characters and stories is well-documented. As well as being a memorable presence on screen and stage, much of her working life has also been spent at the desk, as a playwright.
Examples of her plays include In The Continuum (2005), which features two women simultaneously reacting to being diagnosed with Aids in Los Angeles and Zimbabwe, while her latest work, Familiar, is a more comedic exploration of the clash of cultures between a first-generation African-American woman, and her Zimbabwean parents.
However the play for which she is most known, Eclipsed, was an exploration of the female survivors near the end of the Second Liberian Civil War in 2003. Following a brief off-Broadway run in 2015, the show transferred to Broadway's John Golden Theatre in March 2016, where it spent 15 months and picked up six Tony nominations, one being for Best Play. Though the subject matter of her plays vary, over the last decade Gurira has fostered a strong body of work that focuses on the stories of African women in the diaspora and on the continent. And this came out of a desire to create the stories she wasn't able to see anywhere else.
'I'm very connected to what's happening in the world, the issues the world is dealing with, specifically around Africa and African women,' she explained. 'I noticed a lack of narratives that come from those people's perspectives, so you start to notice that African women start to be portrayed as statistics more than anything else. Meanwhile, they are very complex and interesting, fascinating, amazing human beings, people who are striving for their better self and have various complexities and multi-dimensionality. That was something I never saw portrayed, so I really would write from a place of needing to see a story told that I never get to see.
'I start from a place of outrage of the lack of representation, or the misrepresentation, or the distortion of representation,' she continued. 'I dig intricately into the character, plot and circumstance of the story and develop the story. So it's definitely from a place of really wanting to hear and see African woman take centre stage. If you're seeing any play I've written, you're gonna be spending time with a protagonist that is African and female. That's just how it works.'
This deep connection to the telling of African stories makes perfect sense. Though she was born in the mid-western state of Iowa, she and her family moved to Harare, Zimbabwe when she was five; she didn't move back to the States until after high school, for university. And it was in Zimbabwe where her desire to make acting and drama a part of her life's work was stoked, while reading Ntozake Shange's play For Colored Girls in Upper Sixth (Year 13).
And it's clear that it's connection that runs deep – the way she speaks about acting and theatre leaves no doubt about her love and appreciation for what it can do, and who it can impact.
'It was that last monologue, when the man drops the babies out the window,' she recalled of reading the play that first time. 'I was working on it at home in my living room, and I remember I just lost a sense of time and place. I got wrapped up in developing this role and character. That's when I realised that I had a passion and an ability in this area; that thing where you find your medium. I was so lost in this place of creativity, I forgot where I was. It was that sort of feeling that made me realise that I had a connection to this craft that I couldn't easily shake.'
When it comes to the role that has stuck with her most, however, her six-year stint as The Walking Dead's Michonne has a special place in her heart. Tough and mysterious, the character became a fast favourite with viewers, and Danai's portrayal has been widely praised. With all of Danai's various examples of high achievement, perhaps there's a part of herself she sees in Michonne's commitment to excelling?
'Sure,' she readily agreed. 'She's much better at it than me, but something I see as myself in her is that she doesn't envision failure. She doesn't see something in front of her and think about failing at it – and I don't think about failing at things either, it's not how I'm wired. But she is the champion of that, she's magnificent. And there's something of a warrior in me. She figured out how to take care of herself and those around her in this new, hostile world; I think I would probably figure out how to do the same, if the world (God forbid) turned in on itself.'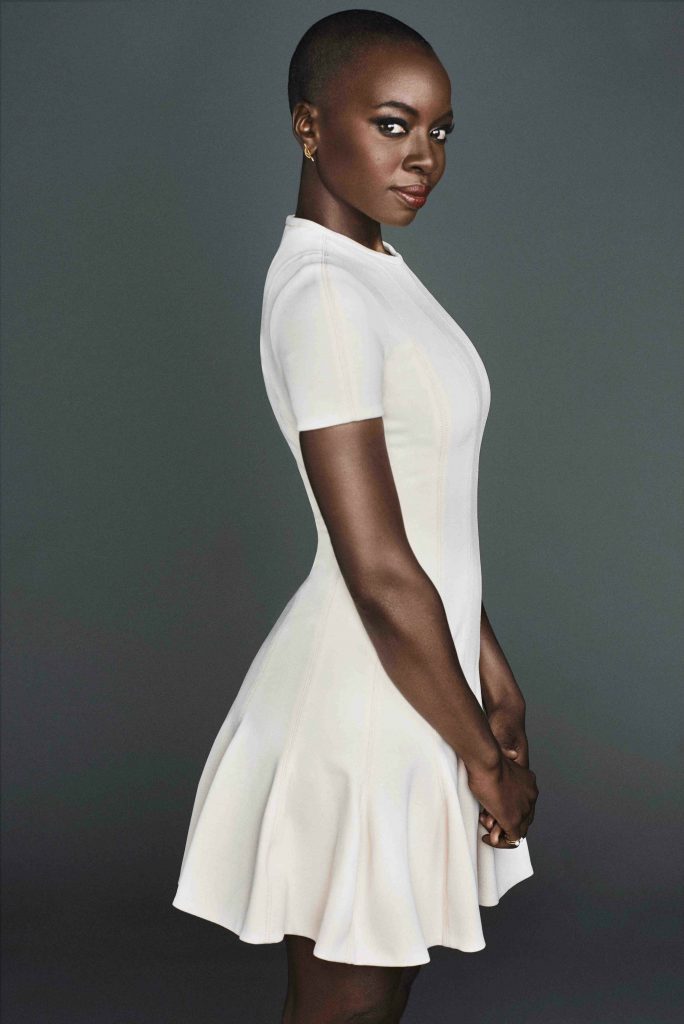 This sense of confidence in your own abilities, and what you can bring to the world, is admirable – and as a black woman, it can be an especially gruelling task to assert your beliefs in order to make a change. Between writing, acting and activism, Danai Gurira brings life to unique stories and voices, and it's nothing short of inspirational to listen to.
In the last few days before Black Panther's release, with fan anticipation on its way to reaching fever pitch, we end our chat by discussing whether any of the cast or crew had any inkling of the impact this would have on Hollywood and beyond – and apparently, they were all too wrapped up in the world to consider the full scope of what they were doing.
'As a family, we were so connected to telling the story, the authenticity, and we really were very keen to make sure that we were honouring the story with all that we had,' she explained. 'I don't think we were thinking very much about this moment as we were really in the depths of trying to tell the story with as much honesty and power as we could.
'The response to that first trailer was really what caused us to realise that we were on the verge of something big.'
And we really can't wait for everyone to see the final product of all their hard work.
Black Panther is in cinemas nationwide now