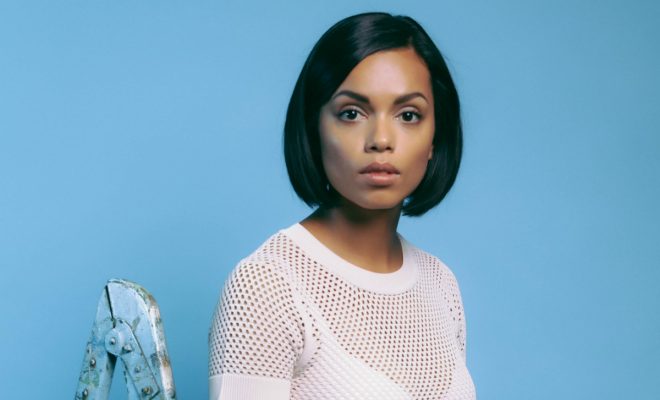 Photo by Tom Leishman
Current Issue
Georgina Campbell: Black Mirror, Baftas and breaking out of the box
By
|
As the first non-white winner of the Bafta for Best Actress for her turn in BBC Three's 2014 film Murdered By My Boyfriend, Georgina Campbell has already made history. Now starring in the latest series of Black Mirror, the actress tells Pride about her excitement at being a part of such a fan & critical phenomenon, and what the future has in store
***
After winning a Bafta for your first-ever film role, you could imagine that it might change you in some way. Perhaps there's an extra sense of achievement, that could lead to a feeling of having 'made it', or having earned a level of diva status.
And honestly, it'd be well-deserved ‒ not just anyone can boast that achievement, let alone being the British Academy Television Awards' first non-white Best Actress winner.
So when Georgina Campbell was asked what it was that brought her the most joy in life, she was well within her rights to answer with something a little extravagant.
Her response?
'My hamster, Nigel: that's bringing me a lot of joy right now. I've just moved to Belfast for a job, and it's my first time completely leaving home to go to a new place for six months. So I bought Nigel the hamster, who's my joy at the moment. Quite sad, really!'
It's very clear that despite winning the Best Actress award in 2015, Georgina is still very much the down-to-Earth, positive-minded girl from Maidstone.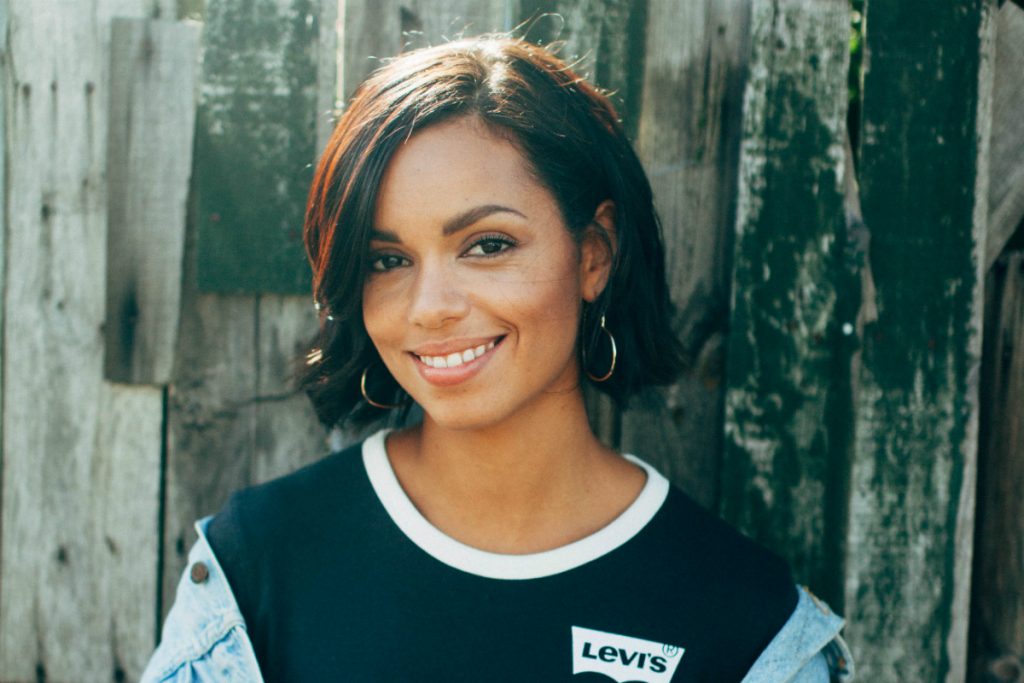 Beating out established acting talents that year such as Sarah Lancashire and Sheridan Smith, Georgina was even surprised, herself, to have scored the prestigious gong; her face of genuine shock once her name was announced makes it clear.
However, if you saw her work in the harrowing BBC Three drama, Murdered By My Boyfriend, the reasons behind her win become immediately clear. Playing lead character Ashley in the TV film, tragically based on a true story, Georgina brought a delicate and completely gripping performance to the table, and helped to portray the heartbreaking inner realities of domestic violence in the UK.
And now, she's making her mark in another TV phenomenon: Black Mirror. The fourth season of the Charlie Brooker-penned dystopian anthology came to screens late last month, much to the joy of hundreds of thousands of keen fans all over the globe. As imagined, snagging a role in the groundbreaking programme is no easy feat; and that's something that the persistent Georgina learned, despite her decoration.
'It was really nice getting cast, because I'd auditioned a couple of times before and I was getting to the end of my tether!' she laughed.
'I actually think it's worked out well because the part I play was really right for me, so I'm really glad that out of all of the auditions I did, this one was the one I got. I think the show's incredible.'
And it didn't take long in our phone conversation to find out just how highly Georgina thinks of the show; gushing over her favourite episodes, and the 'dreamy' filming process, she's definitely a big fan – and now she's a part of one of her favourite shows.
In the episode titled 'Hang The DJ', she plays romance searcher Amy, who finds an immediate and strong connection with Frank (Joe Cole) via an app. Unfortunately for them, this new universe-version of Bumble means that the time they can spend together has an expiry deadline ‒ and sadly for them, they're only allotted 12 hours together.
At time of writing, the series hadn't yet been made available to the public, yet Georgina's episode had already been hailed as the new 'San Junipero' ‒ the popular segment from the 2016 Black Mirror series, which saw a couple journey through time to be together. Lighter in tone than the usual dark, warped instalments of the show, 'Hang the DJ' is an episode in particular that 25-year-old Georgina is proud to be a part of.
'People will really relate to it because I think it does capture that feeling that we have today, when you meet people on Tinder and other social sites,' she explains. 'We're in a place now where people are dating constantly ‒ and there's a lot going on, constantly meeting people and dating… that can feel quite lonely, that search to find a connection with someone. I think the episode I'm in really shows that need for real connection amongst all these fast relationships.'
With Black Mirror's common focus being around some of the most damaging and startling aspects of modern society, I was curious to find out what aspects of life in the age of instant information worried her ‒ and number one on the list was social media, despite the fact she's 'addicted', herself.
'This culture where you're constantly looking for likes, and the idea that everything in your life has to be out there for people to see – or it's like it doesn't exist,' she reflected.
'I guess I'm a bit addicted – I constantly have visions of deleting myself off of everything, but I never do! It is really hard to escape, but I do think social media's a great platform on the whole – and it's really important in promoting yourself, as an actor.'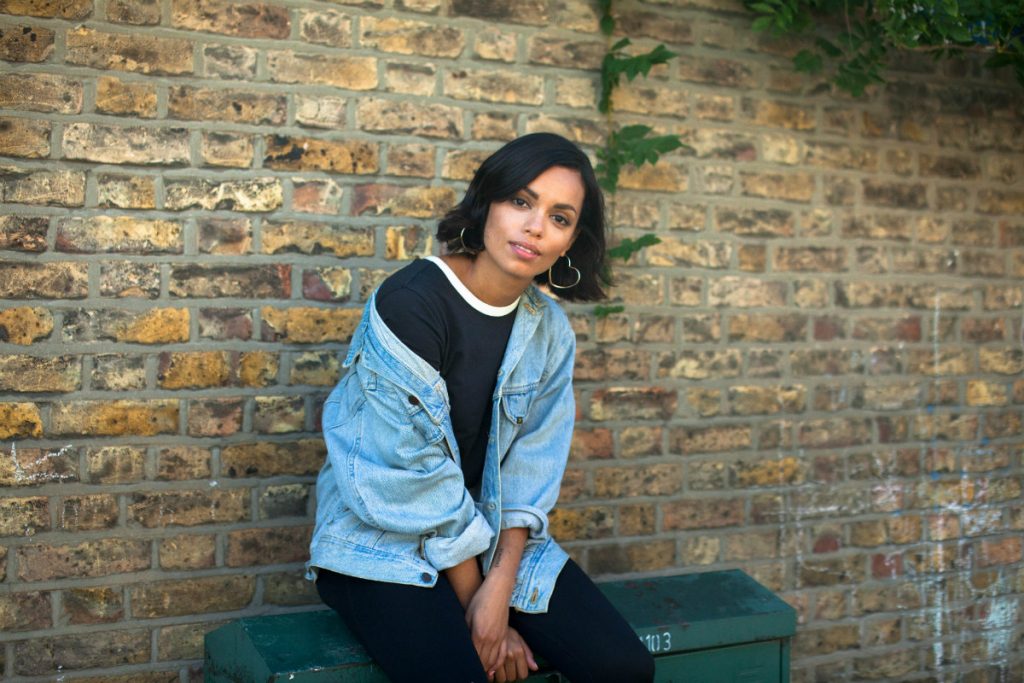 Aside from her determination to get on Black Mirror, Georgina has been steadily building her name and her acting portfolio in the last few years, taking her talents to a variety of platforms: crime drama Broadchurch, comic mini-series Flowers and even Guy Ritchie's feature film King Arthur: Legend of the Sword. But people still largely remember her best for her award-winning turn in Murdered By My Boyfriend ‒ and it remains a role that she holds dear to her heart.
'I felt very close to that character,' she explained. 'It was all-encompassing. I took it very seriously and I really wanted to portray what this woman had gone through.
'To have won the Bafta for that role felt incredible; I was really glad. Of course it was special to me, but a lovely thing for the show as well ‒ at that point in the night, we'd already lost out on the Single Drama award, so we were all a bit deflated by then. My performance was just one part of it; every bit of work that went into the show is the reason why I won.'
But after the massive high of that surprise win, what came next? I asked.
'It was quite scary at the start. I think I'm only just understanding the magnitude of it, to be honest. I'm still quite young, but when I won it I was 22, and I think I thought I'd suddenly have loads of jobs overnight… and it didn't quite work like that. I remember feeling a bit disappointed, being like: "oh! I'm not on the front cover of all the magazines!"
'It's had a slow-burning impact on my career, but a massive one. The jobs I started getting had a snowball effect since the Bafta. It's given me a platform, helped make me someone known in the industry. An award like that to your name is always helpful when going up for a job! It's changed my career in a massive way, and I'm very grateful for it.'
Born to a white English mother and a black British father, Georgina is the first mixed-race person to have won the distinction; something she feels very proud of, seeing as she lightly called out BBC News during last year's awards season for incorrectly stating that there's never been a non-white winner of the Best Actress Bafta (she Tweeted the offending paragraph with the caption 'fake news').
However, despite the sign of progress marked with her win, many would argue that there is still a lacking number of roles and nominations featuring black people and people of colour. I was curious to find out Georgina's view on diversity in the industry following her win, and happily, she's optimistic about the direction of diverse casting in the film and TV world.
'I feel like that's the way things are going, it's what people want to see,' she began. 'If you're right for the job then you should be able to get the job. In the case of Black Mirror, it was colour-blind casting: they had people of all ethnicities read for the different characters, and they chose the people they thought were the best. If that happened across the board, that'd be great.'
When it comes to race being a factor that holds people back from getting casted jobs, though she's aware of its existence, Georgina felt that fortunately, it hasn't been something that's affected her career:
'I can see that it happens to lots of other people, and it is a problem. Luckily I've managed to play an array of different types of roles, and hopefully that'll carry on.
'But I think stereotyping is something that happens in the industry, no matter what colour you are, your weight, your hair colour – it's lazy, putting people in boxes, and making assumptions on roles they can and can't play. When they manage to break out of the box, it's really exciting.'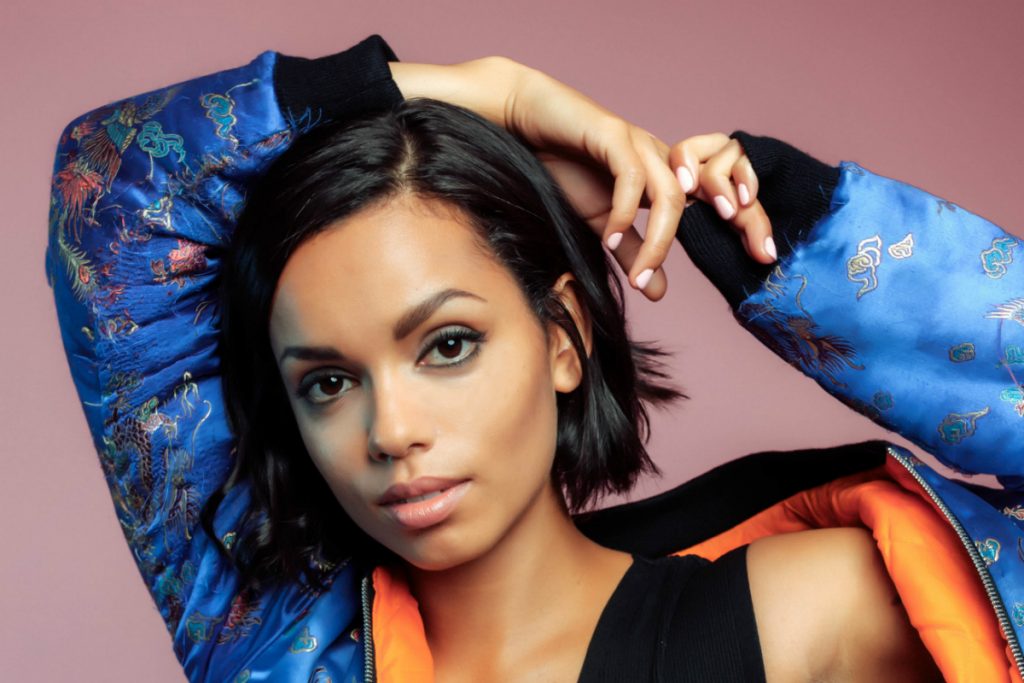 At the time of our conversation, she was in the process of filming Krypton, the Superman prequel in which she plays female lead Lyta Zod. She's come leaps and bounds away from her unexpected career start, when director Sarah Walker spotted her on the street and asked her to audition for 2009 online teen drama, Freak. It ended up being her first professional job, and sparked the fire for Georgina to take acting seriously.
'Before that, acting was something I'd only done as a hobby,' she admitted. 'No-one in my family had done anything like that. I thought of acting as this kind of ethereal thing that you can't touch; I never thought about pursuing it until I was put in that position.'
Following Freak, Georgina combined her interests in acting with academia, and studied film at Royal Holloway University. And though acting is her first love, she also finds time to dedicate her energies towards being an ambassador for mental health organisation, STEM4.
'Issues of mental health seem to be getting worse and worse, especially with young people – the internet being one of the causes,' she reasoned. 'I think it's an important time to make sure that teenagers are aware of how to deal with mental issues, and not be debilitated by them. They're the next generation, and if they don't get the help they need now, it's going to affect them later on in life.'
Clearly intelligent, as well as being talented and charming, Georgina's certainly set for a landmark 2018 – and hearing her genuine love and excitement for the work she does, it's easy to see that she's earned every bit of it. And while being on the precipice of something genuinely life-changing might stoke fear in the hearts of some, for her, Black Mirror's release couldn't come any sooner.
'I try not to think too negatively. There's no point letting those things come into your head, thinking of it going badly. The show, the crew, and Charlie Brooker himself are incredible so there's no doubt in my mind that all the episodes will go down well. I'm really excited that it's going to be seen by loads of people!'
And we're excited for her too.
Black Mirror (season 4) is available on Netflix now.