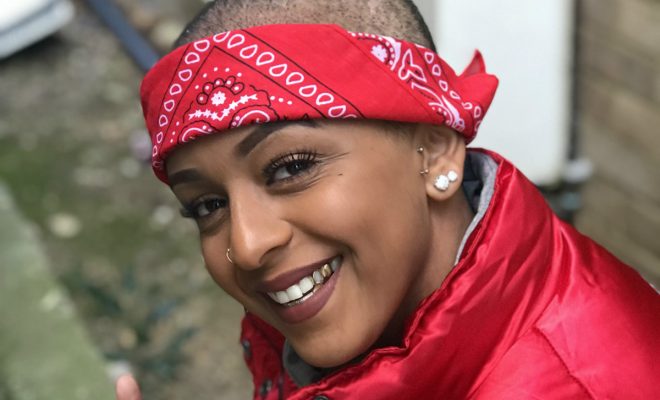 Interviews
Paigey Cakey: "I feel a lot better now – I'm not hiding"
By
|
Rapper and actress Paigey Cakey certainly kicked off 2018 with force, by opening up to fans about her struggle with traction alopecia (hair loss caused by tension and tight styling) and her decision to get a hair transplant to fix the damage, for which she had to shave off her hair.
As well as this, she also explosively addressed matters of her sexuality on social media on New Year's Eve 2017, by claiming that she'd previously been in a romantic relationship with fellow MC, Lady Leshurr.
With the dust now settled, a happy Paigey speaks to Pride about her desire to live her life without doubt, and stepping forward with a renewed sense of confidence.
Hi Paigey! You've been so open about the realities of your hair loss and your journey to getting it back – what pushed you to open up?
Paigey Cakey: It was just something that I'd been suffering with for quite a while. Being in the music industry, there's a lot of pressure to maintain a certain image – and I felt like every day, I'd be lying to myself and to others. I'd get comments saying 'oh, your hair's so lovely!' and I'm thinking, 'if only you knew.' I'd been losing it since about seven or eight years ago, but within the last three years, it got really bad.
Were you nervous to reveal your new look?
PC: To be honest, the first video that I filmed, I wasn't going to release until, like, Spring – then I thought, 'how am I gonna hide when people always see me on the street? They'd be like, 'where's your hair?' And that's just another lie. I thought, 'you know what? Let me just be honest.' I was expecting all negative responses, but it's been so positive; so many people have supported me. I'm still getting messages from people, sharing their stories – and I think I helped quite a few people with alopecia to come out with their story too.
How do you feel about your new image?
PC: At the beginning, I wasn't sure – but now I love it. I don't know what it is, but when you cut your hair, as a woman, there's just a whole new power. I'm on top of the world, and I feel more confident now than I did with hair. I walk with my head up, and I've got inner peace – and that comes from also being true to me, and telling people what I like in a relationship.
That's right, you opened up about your previous relationship with a female rapper – what made you spill about that too?
PC: It's something I had on my chest, and something people always asked, but I never addressed. Putting it out there, I do feel a lot better now. I'm not hiding. Now my Mum and everybody else knows – and as long as I'm happy, everybody's happy. At first, I was scared of being judged; now I'm just learning to love myself.
Did the pressures of the music industry make it harder to be honest about your sexual preferences?
PC: Yes and no: it depends on you as a person. Rappers like Young M.A – she's done amazing things, and that song 'OOOUUU' popped off! People weren't really watching whether she was gay or straight, it didn't matter – if the music is banging, it speaks for itself.
Have you defined your sexuality?
PC: I like girls and guys, to be honest.
What does having good friendships within the industry mean to you?
PC: It's hard to find good friends in the industry – especially females. We're very competitive; not just in music, in life too. It's hard, but I have got quite a few good friends: Wretch [32] and Chip are like my older bros; Ms Banks, I'm really tight with her; Stefflon Don is really cool – so yeah, it's good to have friends in the industry. They're people you can relate to, and people you can ask for help.
What's your biggest aim for this year?
PC: It's to put out solid projects and some really sick visuals, hopefully shooting them outside of this country – and hopefully put on another tour in the UK and Europe. I reckon I might address a few personal points on my music too. I've gone through so much, especially at the end of 2017, so I feel like I might as well put it in my music and talk about it.
Any advice for other people coming out?
PC: Just remember: you're doing it for you, and you can't always care about what other people are gonna think about you. Live your dream, and do what makes you happy.
Follow Paigey's hair growth journey on her YouTube channel, PaigeyCakeyTV, and keep up with her on Instagram: @mspaigeycakey