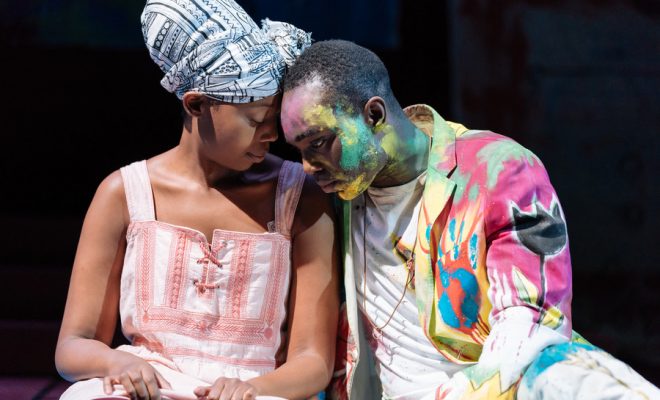 Entertainment
Hamlet at Hackney Empire: Interview with… Paapa Essiedu
By
|
British actor Paapa Essiedu became the first black Hamlet at the The Royal Shakespeare Company in 2016, awarding him an Ian Charleson Award. After taking on few TV show roles, Paapa has returned to theatre starring as the title role Hamlet in the Ghanaian-influenced production, now playing at Hackney Empire.
Pride speaks to Paapa Essiedu about what it's like returning as modern day Hamlet with a new cast, the rehearsal process, favourite scenes and more.
What have you enjoyed most about returning as Hamlet?
No matter how many times you do it there is always more exciting stuff that you can find. And usually when you do a play, it's only a month later when you're like "oh, that's what that line meant", or "oh, this is what the character meant by this." So, getting a chance to revisit it has been a real honour.
Have you had any life developments that have helped inspire or mature the character?
I'm older. Now I'm 27 whereas before I was 25 – and the world around us has changed so much. We'd be foolish not to allow that to re-influence the way we engage with the story and in a way, I think using the way the world is changing to influence the play is only natural.
Have you looked at the play any different than when you last performed it in 2016?
I have. The first time we performed it almost 80% of my energy was spent trying to get the lines in my head. But this time […] it allowed us to really delve into the themes and ideas of the play more deeply. So, the elements of grief for example, really comes to the front in our production this time, in a way maybe we didn't reach in the first iteration.
You once explained to us that you found soliloquies quite difficult. How do you feel about them now?
I love soliloquies. You can just talk about what is going on inside your head with a sympathetic ear. And how much do we wish we could do that in life?
In this particular play they are so well written, so poetic and active. There's something different to find every time we do them.
What is your favourite scene in the play and why?
I love the scene when the Players first enter the play. The stage gets populated, and it suddenly goes from one person to about 15, and there's a huge amount of energy, music, laughter and fun; plus, that is a moment that is different every night, so I love that bit.
Can you tell me how it's been working with new actors – have you had any challenges?
Yeah, it's been brilliant. It is challenging because we were given less than 3 weeks to rehearse a three and a half hour play, which is quite ludicrous. But working with new actors gives a new stimulus.
As an actor it's challenging not to just do what you did last time, but it's really rewarding when it pays off.
What genre of theatre or TV show would you like to do next?
All actors want to do something that is relevant to the world we are living in [that either] challenges or holds a mirror up to the society we live in. So be it television, theatre, film or radio that's the sort of thing I'm interested in.
Explain this new rendition of Hamlet in 3 words.
Emotional.
Energized.
Thrilling.
Hamlet is now showing at Hackney Empire until 31st March 2018.