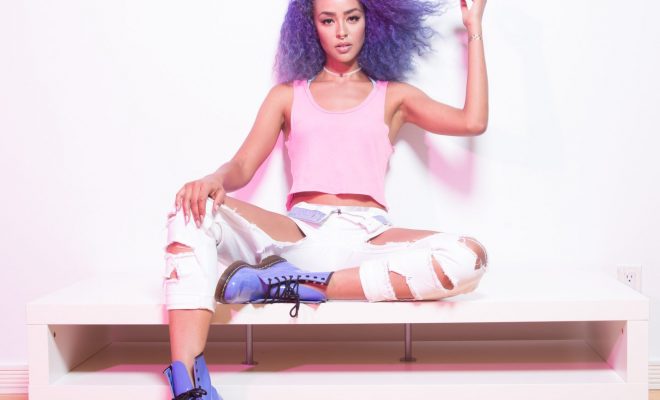 Fashion
My Blackbook
By
|
Chicago born LA based pop artist Ebonique Wool opens up her book of places to go!
Far East
About 5 years ago, I visited Malaysia with my BFF for a week and it was an amazing time. We visited Boh Tea Gardens, went on a tour of their factory, and hiked through a rainforest to camp out with chickens who were running around the grounds. It was a life changing experience.
Woman VS Food
One of my favorite places is the Chicken Shack on the north side [of Chicago]. The second is Lou Malnatis; I get the personal pan, well done, uncut, easy cheese, hot giardiniera, spinach, olives, garlic (my mouth is salivating just thinking about it). It's honestly the best food you'll ever have!
Beauty Buys
I swear by my Sunday Riley Good Genes and Luna face oil in the evening to keep my skin looking even and moisturized. I always fill in my brows with my budget friendly NYC pencil, and plumping lip gloss from Soap & Glory.
Fun Times
When I go out, I like doing fun things like bowling at Pins in Sherman Oaks, or heading to a bar like The Dime on Fairfax or the Blind Barber in Culver City. For a club scene at the moment, I always have a great time at 1Oak.
High Low
I'm all about mixing high and low end fashion. I'm into streetwear and simple designs. I go to Top Shop a lot. I'm headed to Melrose and Fairfax right now to cruise the local boutiques and thrift shops, I'm all about that life. My current favorites are a pair of black, leather, studded short boots from Marc Jacobs.
Take a Hike
I usually work out at the beach I also hike Runyon Canyon (an extremely popular workout spot in LA). I like being outdoors when exercising for fresh air and vitamin D.
LA Living
I absolutely love Tender Greens and Urth Café [in LA], where I usually order the green tea with almond milk blended with boba and a slice of pumpkin pie. Lastly, Kazu Nori is another one of my favorites because their sushi is beyond incredible.