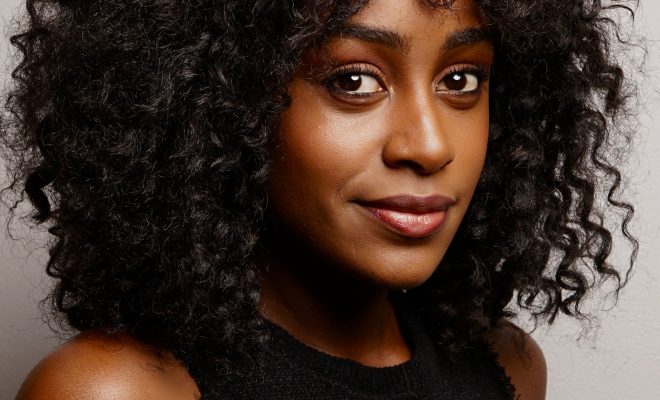 Entertainment
Celeb BFF: 'Kiss Me First' star Simona Brown
By
|
With there being a boom of young, black British stars lighting up our TV and film screens over the past couple of years, it's an exciting time for emerging talent – and Simona Brown looks set to be one of the next big things. Starring in new thriller series, Kiss Me First, she spoke to Pride about knowing early on that she wanted to entertain, and her unconventional dream role.
So, Simona, how did you start in the acting business?
Simona Brown: I've been acting since I was about three, in my own little world. I had a lot of creative energy – my Barbie storylines were quite extravagant – so I feel like I had something that the world deserved to see. I did musical theatre at the Brit School, and then I went to Identity Drama School part-time when I was about 19 years old. And from there, I got signed, and the rest is history.
What did your family think when you first decided to pursue acting professionally?
SB: They all knew – no-one thought that I'd be a teacher, or a doctor, or anything like that. Whenever we'd have family over, there'd always be a point in the night when they say 'Simona, get into the middle and sing Céline Dion for everyone,' and I'd say: 'Okay!' Everyone's been supportive of me pursuing my creative dreams since I was very young, which is great.
You're something of an extrovert, then?
SB: I think it depends on my mood. I have sporadic social anxiety; sometimes I'll meet someone, and it'll be like I've known them forever – then other days, I'll be sneaking away and Googling 'icebreakers'! (She laughs.)
What would be your dream role?
SB: It came to me recently – I'd love to explore playing Naomi Campbell in a biopic or something, because she's fierce and amazing. She's so eccentric, and interesting, but I still don't feel like any of us really know who she is.
Is there any role that you haven't gotten that you still pine after?
SB: If ever I miss out on a role, more often than not I'll look back on it and think the right girl got the job in the end. In terms of roles that I wish I would've gotten the chance to audition for, though, it'd be Letitia Wright's role in Black Panther [Shuri] – she has the best lines. She was just fabulous in it! It's so inspiring seeing seeing people who are of the same background as myself doing so well in creative arts, and inspiring people to keep going, and to keep producing, writing, and creating. That's Celebrity Best Friend Forever really inspiring. Growing up, I would have loved to have people like Letitia Wright, or Daniel Kaluuya to look up to.
Tell me about Kiss Me First, and your character in the show.
SB: It's about a group of young people who meet online in the virtual reality world of Azana – so there's like a 3D version of myself, which is so sick! They meet in a secret part of the game, created by their leader Adrian, called Red Pill, and unbeknownst to them, it's kind of a grooming site where Adrian can manipulate them to do sinister and dark things. But the players have no idea… Tess, my character, was so satisfying to play. She's so unapologetically herself; vivacious, confident. Playing her made me inject an element of fun in everything I did.
What's the best piece of advice you've ever received?
SB: When I was once freaking out about doing a scene properly, a friend once took me down and said, 'Mate, you're not saving the planet! You're doing a TV show, the world will keep moving – and if you get it wrong, there's always more takes. Get over yourself.' So once I realised that I wasn't flying to the moon, I started to enjoy myself a lot more. I do my best, knowing that it's called a 'screenplay' for a reason – I'm meant to go and play. It's been fun exploring that element of film – enjoying it, and not agonising over it.
Kiss Me First airs on Monday evenings, Channel 4 at 10pm