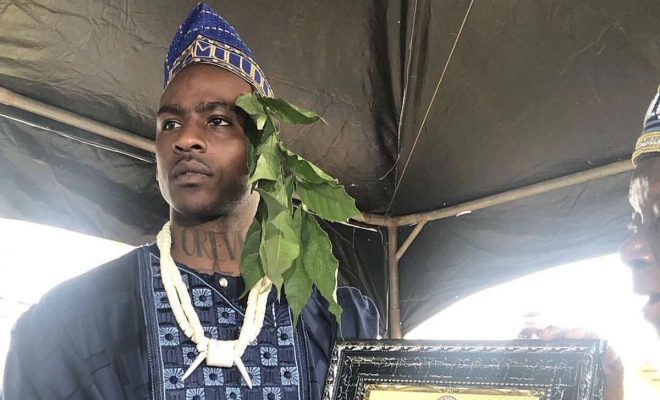 featured
Skepta becomes Chief Amuludun in Nigeria
By
|
Grime star Skepta has been presented with the honour of becoming a chief in his parents home state of Ogun, Nigeria.
The honorary event took place on Wednesday when the MC visited Nigeria to perform a 'Homecoming' concert, alongside J Hus, Wizkid and Davido, whom he extended the invite to.
Chieftain titles are usually given in recognition of a positive contribution to community wellbeing, which Skepta has done over the past few years in Nigeria by building a playground in the village, putting on shows and performing at festivals. His newly gained Chieftaincy Title: Amuludun Of Odo-Aje suitably translates to Chief Entertainer of Ofo Aje.
Skepta, who was born Joseph Olatain Adenuga Jr, in North London expressed himself saying, "I am honoured and will continue to put time and love into Nigeria, especially in the community of Odo Aje".
The artist's family was also in attendance during his trip, including his sister and Beats 1 radio presenter, Julie Adenuga. His rumoured boo, Naomi Campbell was also in Nigeria and tweeted her congratulations.
Congratulations Chief Skeppy, it's a shutdown for real.
Congratulations Chief Joseph Olaitan Adenuga! 🖤🇳🇬🦅 @Skepta #greatnessdex #Greatness #celebration pic.twitter.com/VqchUjbiO4

— Naomi Campbell (@NaomiCampbell) April 4, 2018
Words by Emmanuella Ngimbi