Rebecca Ferguson – My Little Black Book
By admin — July 27, 2012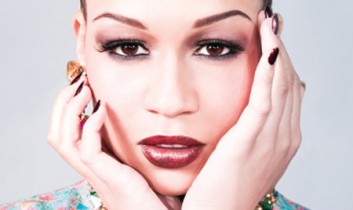 The biggest export from Liverpool after The Beatles, Rebecca Ferguson, opens up her little book of secrets. By Shevelle Rhule
The Classics: I loved Parisian fashion and their classic style. I'm a big fan of Audrey Hepburn, Marilyn Monroe, Grace Kelly and Jackie Onassis, I love the way they were so done up just to walk down the road. Even the way they did their hair was so glam – I don't think anyone has the time nowadays.
Holiday Hotspot: I flew to Cyprus and stayed at the Almyra Hotel. There isn't much to do there, but with a job like mine; it's the perfect getaway as it's a nice and peaceful place. The food is really great and I just chill out with the kids in the pool and I sunbath by the poolside.
Buon Appetito:  I always end up in La Famiglia in London, it's an Italian family restaurant and the grandmother makes all the puddings – I love it. I order the pasta with truffle oil, it's gorgeous and for dessert I always get the black forest gateaux.
Current Obsession: I'm going through a terrible Christian Louboutin phase and it's not cheap! The last pair I bought was a stunning pair of Pigalle stilettos which are covered in black studs.
Style.com: I love shopping online at Net-A-Porter and Asos.  If I want something special for an event or a big gig I would normally go to Selfridges, I don't often use a stylist – I wear what I like.
Spa Loves: I use The Sanctuary Body Lotion, which contains ingredients that stimulate your skin and when you work it onto your skin it heats up. The Sanctuary 5 Minute Thermal Detox Mask is a charcoal clay mask, which is brilliant if your skin is really congested.
Come On You Reds: I normally go to the Mosquito Bar in Liverpool, it has a good mix of music and you don't get bothered by the people much – It's a really cool crowd. My drink of choice is a good glass of red wine; I've really gotten into it lately.
Fruit Of The Loom: Peaches and Cream is a fabulous hair and beauty salon in Liverpool – I always go and get my hair and make up done when I go home. It's a really sweet shop, they have the music on really loud and there is always a lovely atmosphere when you go.
About Author